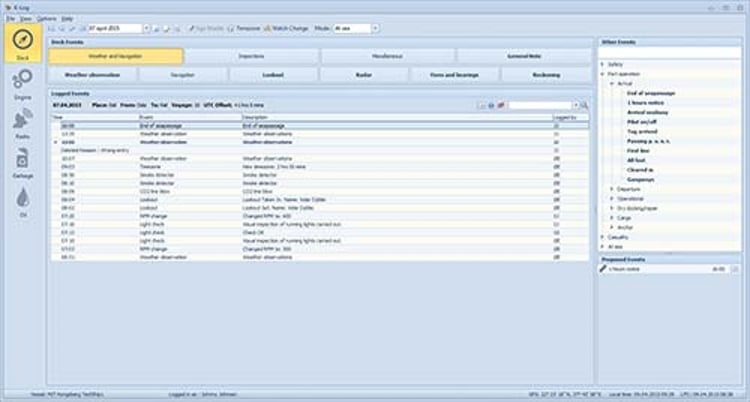 K-Log is designed to replace traditional paper logbooks by collecting data and information into a single data storage platform, either manually or automatically. The system supports event based recording of data related to navigation, engine, garbage handling, port calls and other operational activities, within the five currently available logbooks: Engine, Deck, Oil Record Book 1, Radio and Garbage. Kongsberg Maritime will soon add Dynamic Positioning, Operational and Official Electronic Logbooks to the system, with more planned for the future.
A key aspect of K-Log's design is that all Electronic Logbooks provide a high degree of recognition from traditional paper logbooks, ensuring that users are already familiar with the layout. This makes the interface easy to learn and interact with, which along with simplified reporting routines and automatic collection of data, helps to reduce workload for officers on watch, so they can focus on safe and efficient vessel operations. Additionally, with greater automation, K-Log improves the quality of logbook entries by minimising the opportunity for human error. An on shore version of K-Log can also be included, making signed logbook pages available for authorized personnel.
K-Log is a highly adaptable software platform that can be customised to fit specific vessels or fleets, taking into account individual requirements of event set up and structure. It features customisable shortcuts to events and certain events can be recorded at specific times or in a sequence. The customer can define these rules under proposed events. Additionally, some events are recorded in multiple logbooks, reducing workload even further, i.e., an event recorded in the Deck Logbook can be sent to the Engine Logbook as a pre-filled suggested event. The officer responsible for the Engine Logbook only has to confirm before it is stored as an entry.
"By providing efficient and trouble-free logging, and more efficient information exchange with simplified reporting routines, K-Log helps vessels to make the most out of recent regulations that permit paperless reporting," said Hans Otto Schjerven, General Manager – Product, Kongsberg Maritime's Merchant Marine Division. "Electronic logbooks offer a wealth of functionality not available with paper. For instance, K-Log reduces time needed to duplicate entries across logbooks, whilst ensuring more accurate reporting as much of the data can be pulled in automatically. We strongly believe that K-Log can save time and money and this is reflected by very positive feedback from our trial customers."