The EM 712 is based on a sophisticated, flexible hardware platform, which enables several performance enhancing features. One of the key benefits that the re-engineered system introduces is increased range performance, which is close to double that of the EM 710, resulting in a maximum range of 3600m and a swath coverage of close to 4000m. Other advances include low-noise receiver transducers and electronics in addition to a smaller, lighter form factor, enabling for more flexible installation on a wider variety of vessels.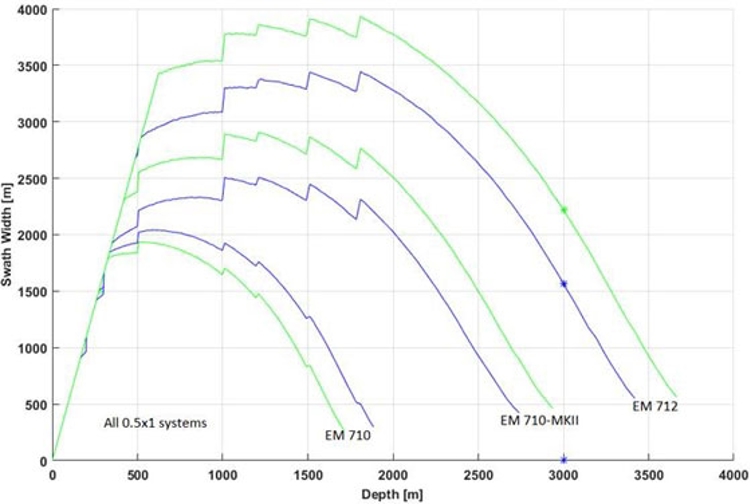 Ensuring that the EM 712 can support the same wide range of applications as the system it replaces, it is offered in multiple versions, including a 0.25 x 0.5 degree system for the best range and resolution and a smaller, portable 2 x 2 degree system ideal for use on vessels of opportunity. All models are available as full versions for maximum range performance, or as a shallow range version without FM chirp enabled. Kongsberg Maritime has also developed an 'entry level' model, with reduced depth performance.
The first generation of the EM 710 was released in 2005 and quickly became the standard for shallow to medium range surveys. It was the first true wideband system and the first multibeam echo sounder to utilise FM chirp as a transmitting pulse. By introducing these and other features the EM 710 started a paradigm shift in multibeam development. The EM 712 is a natural progression, which improves on the ground-breaking EM 710 in every way.
"Today all KONGSBERG EM multibeams use FM chirp and have an unparalleled range and resolution," says Helge Uhlen Director of Sales – Subsea, Kongsberg Maritime. "The EM 712 joins our unmatched range of industry and technology leading MBE systems, which includes models for very shallow water with very high resolution to large systems for full ocean depths, all in different sizes and shapes to fit any application. All of our multibeams have gained a reputation for being highly reliable with the very best performance available and the EM 712 certainly lives up to what is expected of a new KONGSBERG MBE."