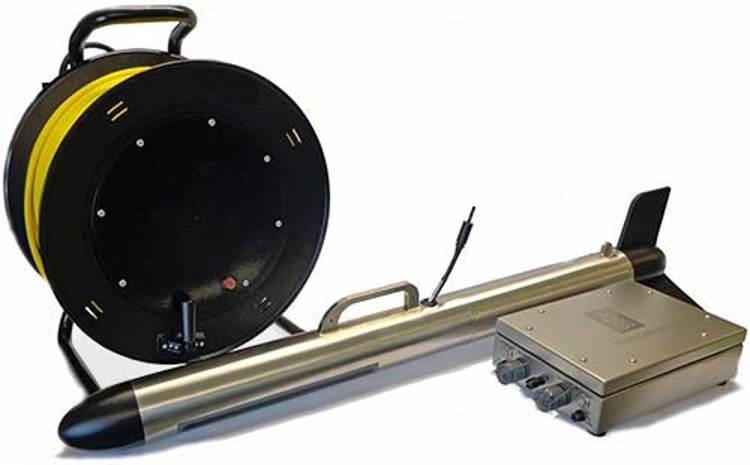 The PulSAR system acquires high resolution acoustic images of the seabed using a compact, rugged stainless steel tow fish that is operated with a water protected (IP64) deck unit and small cable hand reel. The system can be deployed on small vessels such as open RIBs. Large areas can be surveyed efficiently revealing small objects and structures in great detail. PulSAR operates in a frequency range of 600 kHz to 1 MHz and both FM and CW source signals can be selected in order to optimise the range and resolution for the given survey task.
"With quick and easy deployment and high survey performance, PulSAR is an ideal tool for Search and Recovery, where the ability to act quickly is vital to a mission's success," comments Helge Uhlen, Product sales Manager Underwater Mapping, Kongsberg Maritime. "It is a versatile solution that can also be used for underwater inspection and engineering surveys without large overheads for survey platforms and survey specialists. The high resolution achievable with the system results in seafloor maps with detail that may form the basis for scientific investigation in areas such as marine geology and geophysics as well as marine archaeology."
PulSAR is battery or mains powered, using 24 VDC or 110/230 VAC. It has an integrated GPS system that provides positioning information with SBAS differential corrections and an external positioning system can be connected via a serial port.
The system is delivered with a dedicated software package to be run on a laptop computer connected via Ethernet to the deck unit. It allows the user to plan and conduct the survey and acquire sonar data with embedded positioning information. The data can be processed, visualised and interpreted in the software package and exported in industry standard formats to third party packages for further use.