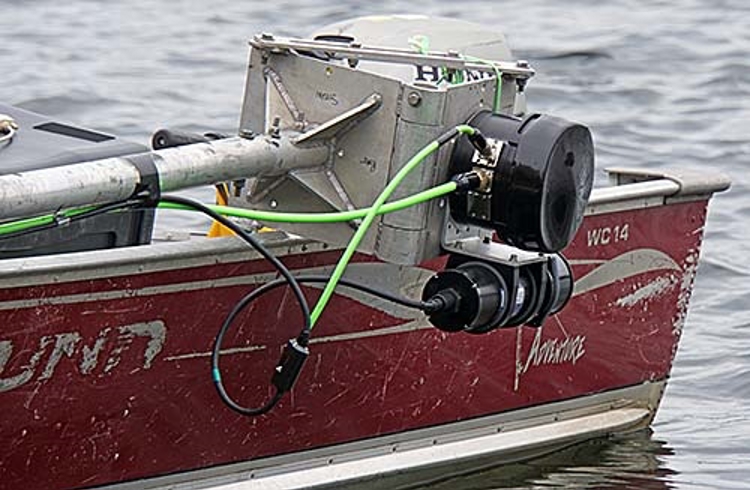 The system is composed of three instruments: The M3 Sonar® and M3 Tag Activator, and Sonotronic's acoustic transponder tags. The transponder tags are inserted into targets and remain dormant until the M3 Tag Activator wakes them. Once operational, the M3 Sonar® collects data from the tag including the unique tag code, position and in some cases, depth of the tagged target, while also sampling a large swath for water column targets and bottom habitat. This enables fisheries researchers to easily identify one fish from among hundreds. Additional benefits of the system include the ability to be used in conjunction with other acoustic tools to provide biomass estimates and the opportunity for extended multi-year studies due to the transponder tags' longer battery life.
"This new system is a reflection of Kongsberg Mesotech's continued advancement into environmental monitoring applications for the M3 Sonar®. We are excited to introduce a new capability to the environmental monitoring market based on our established technology integrated with leading solutions from Sonotronics and Milne Technologies, which meet the needs of many different fishery research applications," said Jeff Condiotty, Fisheries Research Manager, Kongsberg Maritime.
The M3 Sonar® is characterized by its innovative design and versatility with both imaging and profiling capabilities. It is established as a leading system for a wide range of applications within Marine Engineering & Site Inspection (MESI), Search & Recovery (SAR), Security, Underwater Vehicle Instrumentation (UVI) and Environmental Monitoring, where it is used for: Mammal behaviour monitoring, fish monitoring, geological studies (bedforms and gas bubble/seeps), wastewater ponds & lagoons, archaeological sites & ship wreck detection, and coral reef monitoring.
About Sonotronics
Founded in 1971, Sonotronics is THE Pioneer in Acoustic Telemetry for Animal tracking. Providing Ultrasonic Transmitters, Receivers and Hydrophones for Tracking Animals and Equipment underwater. Sonotronics products are used around the world in every ocean, and in rivers, lakes, and reservoirs. The Company strives to provide excellent service to their customers while working together to make a difference in the world they share.
About Milne Technologies
Milne Technologies is a team of dedicated and enthusiastic professionals that provides hydroacoustics consulting, simulation modelling expertise, and analyses of aquatic, fisheries, and habitat data.