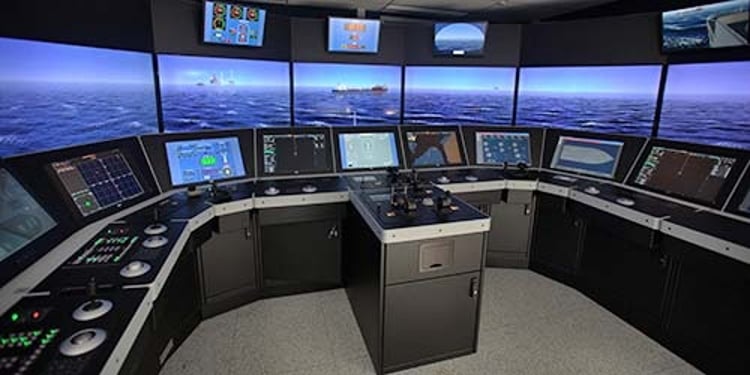 The scheme is a step-change in the critical area of DPO training, with teaching and assessor competence, and the use of advanced simulators forming the platform for training high quality DPOs in a significantly reduced timeframe. The KONGSBERG Training Scheme for DP Operators focuses on competence training and competence assessment developed using the latest methods developed in the science of education. Instructors will work much closer with individual students throughout the duration of the scheme.
After completing the training program students leave with a DP certificate only by passing the mandatory theoretical and practical independent assessment. Implemented to ensure the competence of DPOs leaving the course, the exam is a significant change in approach to DPO training, which until now has not featured mandatory examinations and certification. Kongsberg Maritime is approved by DNV-GL as the global certification body for the new scheme, which is designed to produce highly qualified and competent DPOs.
The first KONGSBERG Training Scheme course for DP Operators starts in August at Kongsberg Maritime's training facility in Kongsberg, Norway. KONGSBERG training centres in Aberdeen, Houston, Rio de Janeiro and Singapore will also operate the new scheme.
The scheme is based on a three-step program. Step-one is an intensive 10 day course, covering theory and practical elements with significant time spent on Kongsberg Maritime's cutting-edge DP and offshore training simulators. After logging the required sea-time with their employer (step-two), course participants will return to the training centre to complete their training (step-three) and take the exam. During the whole process, simulator and theoretical exercises will be used to monitor student learning levels.
The scheme also features an option to extend to a fourth step, to gain training and certification for specific DP operations. Course participants can select from Offshore Loading, Drilling and Offshore Operations extensions, all of which require the DPO to take an application specific exam. Step-four participants will benefit from highly specialised training in theory, and on application specific simulators.
"The current standard DP training regime can take far too long. Considering the demand for quality DPOs is already high and expected to grow further, reducing time spent to certification and enhancing the quality of the training is an attractive proposition for offshore operating companies and vessel owners," explains Øyvind Pedersen, Product Advisor, Kongsberg Maritime Global Customer Support – Training.
"With the Kongsberg Training Scheme for DP Operators, employers and participants have a clear schedule of high quality training condensed into a short period, backed up by an exam that ensures competence when the trainees get to their vessels. This enables greater forward planning based on employers knowing exactly when their potential DPOs will be ready for action," adds Eirik Hågensen General Manager, Training, Global Customer Support, Kongsberg Maritime.