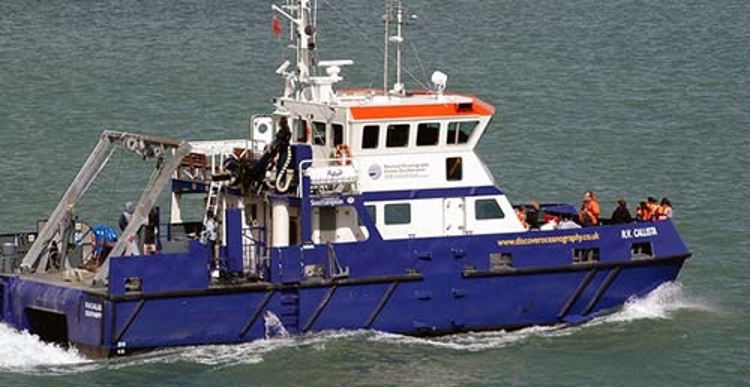 Ocean Business visitors wishing to participate in a demonstration can book their place on the GEOMOTION at Kongsberg Maritime's Ocean Business stands – N1 & P2. Demos aboard the RV CALISTA and BILL CONWAY can be booked via the Training and Demonstration bureau, which is in the 'Entrance Exhibit Hall' at Ocean Business.
Inside at Ocean Business 2015, Kongsberg Maritime will show a number of recent additions to its ocean technology portfolio. Highlights on the stand include the PulSAR and GeoSwath Plus systems from Konsgberg Maritime Subsea's Underwater Mapping business unit and the M3 Bathy from Kongsberg Mesotech.
PulSAR is the latest development in Kongsberg Maritime side scan sonar technology. Launched in January 2015, the system is designed for search and recovery operations, underwater inspection and engineering, and scientific surveys. PulSAR acquires high resolution acoustic images of the seabed by using a rugged tow fish that can be intuitively operated using a water protected deck unit and small cable hand reel.
GeoSwath Plus is a leading system for efficient shallow water wide swath bathymetry and side scan surveying, which has further improved with new software developments for easier operation and faster data processing. The system is now available for a wide range of platforms including a new splash proof compact version for truly portable installations on small craft, unmanned surface vehicles (ASV), ROVs and the popular AUV module including a turnkey KONGSBERG solution in combination with the Remus 100 man portable AUV.
Kongsberg Mesotech's M3 Bathy System, a high performance, entry-level survey system for shallow-water bathymetric applications is now officially designated compliant with IHO S-44 (Special Order and 1A), a reference standard for companies engaged in hydrographic surveying, marine engineering or nautical charting. The system features fast, easy plug-and-play set-up and take down and comes preconfigured with survey acquisition and processing software. The core of the M3 Bathy is Kongsberg Mesotech's proven M3 Multimode Multibeam Sonar. The M3 Sonar™ is the only instrument in its price point that produces 3D point clouds, bathymetric datasets and high-quality imaging records using the same sonar head.
Kongsberg Maritime's experts from all subsea disciplines will be on-hand at Ocean Business 2015 on stands N1 & P2 to discuss visitors' technical and application requirements for the company's leading range of subsea hardware and software.