Represented with staff from various business units and departments, Kongsberg Maritime portrayed its vast variety of products on offer for the future of fishery and aquaculture. This was the first time Kongsberg Maritime attended the exhibition with a joint product offering for aquaculture, and the concept attracted a lot of interest from visitors.
"Aquaculture is one of the main focus areas for Kongsberg Maritime going forward, so this was the right timing for us to attend Aqua Nor," explained Thor Hukkelås, who is responsible for coordinating the aquaculture product offerings in Kongsberg Maritime.
"Only 2% of the world's food production comes from the ocean, and only 2% of this is from Norwegian aquaculture, so there is a huge potential for increased production of seafood along the Norwegian coast. Using our long coastline and offshore ocean areas to produce healthy food for the world's growing population must surely be one of the most meaningful activities that we can be involved in," said Hukkelås.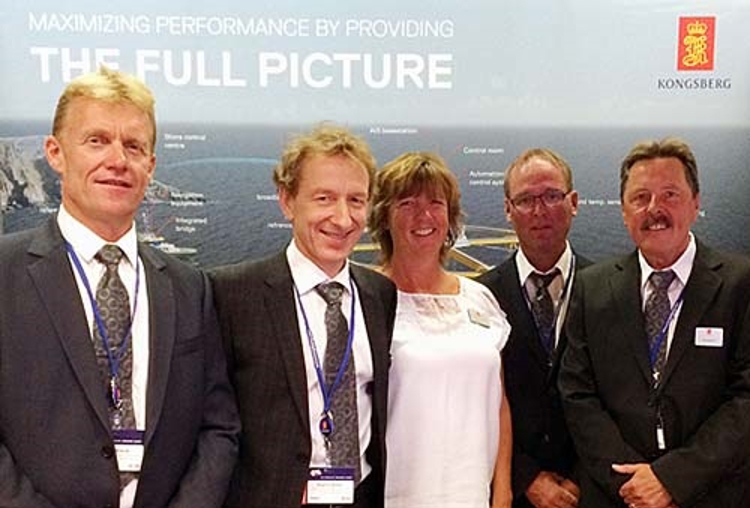 Based on proven technology
As a partner in the newly established SFI Exposed Aquaculture Operations managed by SINTEF, Kongsberg Maritime can provide a range of various systems for aquaculture, such as different types of sensors and echo sounders for real time visualization of fish distribution in order to monitor such factors as fish behaviour, size distribution, activity levels and position. Kongsberg Maritime also offers several other systems for fish farms, such as automation, navigation and communication systems for data transfer to shore.
"None of these products are new in our portfolio. They are all based on proven technology over decades. The challenge is to integrate these systems, to gather the vast amount of data from a large number of different subsea sensors and to present these data to the human operator in a meaningful and intuitive way," Hukkelås commented.
Increasing demand for food
The Minister of Fisheries, Elisabeth Aspaker, gave the opening speech at the exhibition, focusing on the growing world population and the increasing need for sustainable food production such as fishery and seafood.
"We live in a world in dramatic change. While our climate is shifting, world population is increasing by the day. By 2050 there will be 9 billion people on earth. The demand for clean and affordable energy will surge, and according to the Food and Agriculture Organization, food demand will increase by a staggering 100%. Feeding a growing world population is one of the major challenges facing the global community today, and fish and seafood are a crucial part of the solution," said Aspaker.
"The potential for sustainable growth and wealth creation within fisheries and aquaculture is great. Yet, at the same time the industry is faced with challenges related to sustainability and green growth. The good news is that we have more and more examples showing that marine sectors such as fisheries and aquaculture can be managed in a way that meets the three dimensions of sustainability: environmental, social and economic," Aspaker continued.
Aqua-Nor facts
Aqua Nor has existed for more than 30 years
The show is held biennially in Trondheim
It is the world's largest exhibition for aquaculture
Technology, processes and services related to the farming of salmon, other marine species, shellfish etc. are represented
This year's show attracted a record number of 20848 visitors from 76 countries
There were 550 exhibitors from 27 countries at Aqua Nor 2015