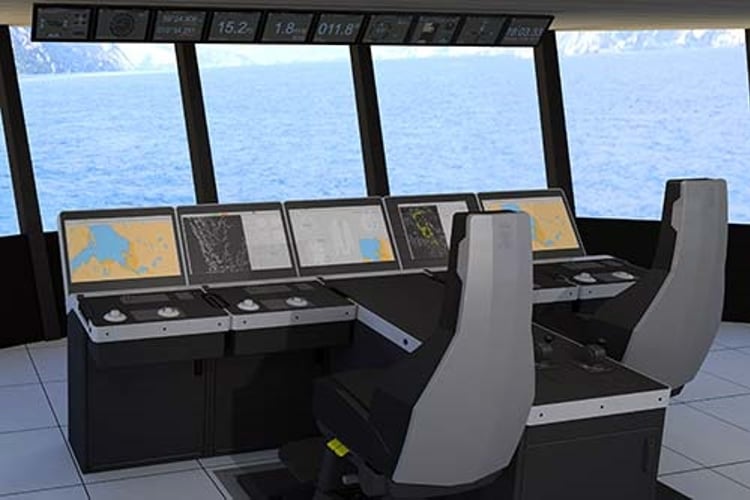 The K-Nav product line will be delivered through a Commercial off the Shelf (COTS) delivery model ensuring low costs without compromising on the highly-regarded KONGSBERG quality. This approach enables customers to tailor their vessel bridge systems using a portfolio of standardised products that work seamlessly together in any configuration, creating flexibility and cost efficiency for both new build and retrofit vessels.
K-Nav Radar, which is based on Kongsberg Maritime's unique networked radar technology, is a key aspect of the new K-Nav portfolio. The radar display unit is a type approved chart radar/ARPA where approved nautical charts can be displayed as underlay to the radar video. Raw data from the antenna is processed in the unit, correlating tracked radar targets and targets from the AIS. Local filtering of the raw data allows the same radar to be viewed at multiple stations, applying individual filter settings.
Other key building blocks within the K-Nav family include the type approved K-Nav ECDIS, which can optionally be integrated with the K-Nav Planning station, a 'back-office' system primarily designed for chart maintenance and voyage planning. For vessel control, the K-Nav Autopilot is an adaptive heading control system providing optimal steering under all condition, including both economy and precision mode. The autopilot user interface is through a dedicated operator unit connected to a controller cabinet, which is based on the KONGSBERG System Technology controller solution.
All primary K-Nav systems feature a standardised HMI, developed by Kongsberg maritime to enhance vessel safety through user-friendly interaction. Control can also be extended using K-Nav MFDs (Multi-Function Display), which provides flexible working on the bridge in addition to greater system redundancy. A wide range of additional applications designed for efficient operation both for traditional vessels and special purpose vessels are available, within the K-Nav portfolio, in addition to K-Nav Sensors; a wide range of both mandatory and optional sensors interfaced through serial connections to the K-Nav operator stations.
Alongside the new K-Nav portfolio, Kongsberg Maritime is showing an upgraded version of its K-Bridge INS at Nor-Shipping. The display integrates the system as part of a K-Master Bridge solution. K-Bridge INS meets the highest requirements from rules and regulations regarding integration, positioning it as a highly flexible solution for technologically advanced and specialist vessels.
Visit Kongsberg Maritime on stand C03-24 at Nor-Shipping to see the new K-Nav and find out more about the customisation potential of Kongsberg Maritime's flagship K-Bridge INS and K-Master technology.