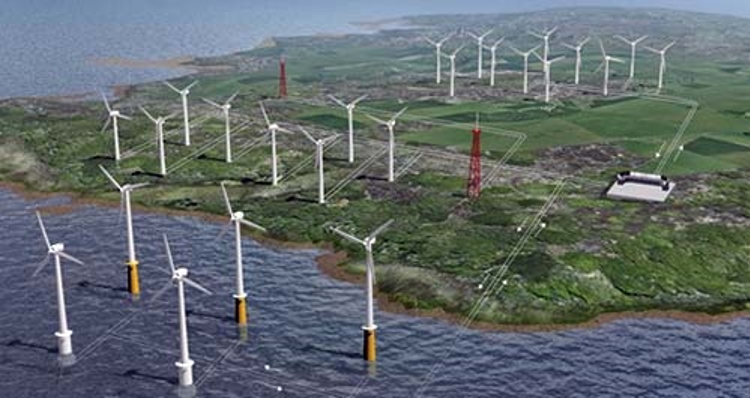 The Kongsberg WFMS is a turbine independent decision support system. It surpasses the functionality found in wind farm supervisory control and data acquisition systems, and offers a modern and intuitive user interface based on KONGSBERG's wide ranging experience in automation and decision support systems for the defence, maritime and offshore oil & gas sectors.
KONGSBERG has selected Gram & Juhl to support the development of the WFMS not least due to the company's expertise in wind turbine condition monitoring systems including an extensive experience with condition monitoring systems for the Wind Industry.
A significant aspect of the collaboration between KONGSBERG and Gram & Juhl will be investigating the potential integration of the Gram & Juhl TCM® (Turbine Condition Monitoring) system technology into KONGSBERG's WFMS as well as exploring possibilities for applying the TCM® technology in the marine and offshore industry. The Gram & Juhl TCM® system was launched in the market in 1999, and has since been successfully implemented in over 13.000 turbines World-Wide, hereof more than 1.500 offshore.
"We are extremely pleased to be able to announce this framework agreement with Gram & Juhl ahead of our formal launch of our Wind Farm Management WFMS system later this year," comments Kristian Holm.
"Gram & Juhl's broad experience from TCM® turbine condition monitoring systems combined with KONGSBERG's expertise from decision based support system will really strengthen our Wind Farm Management System WFMS, providing further energy and cost savings for our clients", adds Holm.
"KONGSBERG is an excellent partner, with their huge experience from marine and offshore, to support our efforts to expand utilization of the TCM® Technology into other industries," states Axel Juhl, CEO Gram & Juhl.
Further information
For further information, please contact:
Kristian Holm, Mob.: +47 918 33 121, E-mail: kristian.holm@kongsberg.com