The survey vessel Taharga, built on Hermann Barthel shipyard in Derben / Germany, has been completed end of last year. Just recently the 17,6 x 4,7m vessel arrived in her home port in Sudan.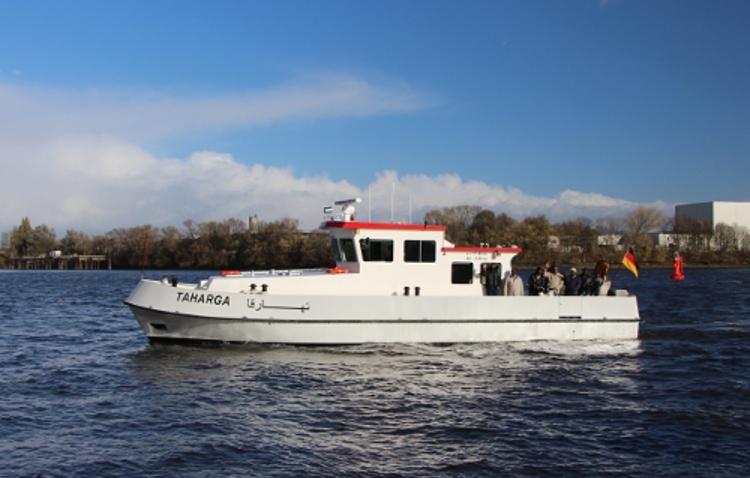 Soon it will be used for survey purposes in the Merowe Dam Reservoir, which covers an area of 476 km². It serves one of the largest hydroelectric power plants in Africa with an estimated standard capacity of 5500 GWh annually. It has been commissioned in 2010.
The installed subsea equipment from Kongsberg Maritime consists of a dual frequency single beam echo sounder (38/200 kHz transducer), a GeoSwath Plus Compact 250 kHz multibeam and their peripheral sensors. Dvls, grap sampling equipment and navigation sensors complete the survey suite.
The Sudanese survey team will perform swath bathymetry and side scan seabed mapping in the reservoir to monitor sediment transport and distribution to prevent sediment accumulation and resulting damage to the turbines. This is the first multibeam / sidescan survey in Sudan. Accordingly, there was the need for extensive training of the local operators. Therefore in November 2013 six students came to Hamburg for a two-week training course. Classroom training was conducted in the newly established local Training Centre, practical sessions were taught on board the vessel.
Participants first got a general introduction into hydroacoustic surveying followed by data recording and processing. With regard to data collection and evaluation of the software package also Hypack and HYSWEEP (2013 version) were trained. To link theory and practice in handling the installed equipment (GeoSwath Plus, Single Beam, but also GPS, Motion and Sound Velocity Probe) parts of training were performed on the vessel in the port of Hamburg.