Award recognizes job growth, investment and facility expansion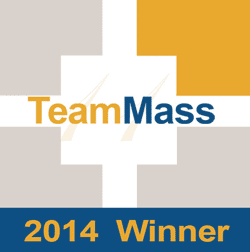 Hydroid, Inc., a subsidiary of Kongsberg Maritime and a leading manufacturer of autonomous underwater vehicles (AUVs), today announced that it has been named the Southeast division gold winner in the 11th Annual Massachusetts Economic Impact Awards. Designed to recognize excellence in job growth, facility expansion, and investment since January 1, 2014, the award celebrates companies that have made outstanding contributions to the Massachusetts economy.
"We are so proud to be recognized with this MassEcon Impact Award," said Duane Fotheringham, president of Hydroid. "Our continued growth is a testament to the remarkable group of people that make up Hydroid, whose hard work and dedication has propelled our company to the top. Additionally, we'd like to thank our customers, whose continued trust has allowed us to expand our operations and cement ourselves as a leading global AUV manufacturer."
Hydroid has grown by more than 33% in the last three years and plans to add a total of 41 jobs in 2014. The company recently opened a state-of-the-art, 40,000 square foot building in Pocasset, MA to house its engineering, manufacturing, and quality assurance operations. Hydroid has long emphasized its commitment to the Cape Cod economy and environment, and worked closely with the Town of Bourne and the Cape Cod Commission to ensure the building was completed to the highest standard. A new 15,000 square-foot administration building is also anticipated for 2015.
Companies compete in the MassEcon Impact Awards based on region, defined as West, Central, Southeast, Northeast, and Greater Boston, with one winner is chosen from each division. Competing in the Southeast division, Hydroid was selected from a group of five finalists. This year's winners will be recognized at an awards luncheon on November 25th at the Renaissance Waterfront Hotel in Boston. More than 400 business and community leaders are expected to attend.
"MassEcon is proud to celebrate and thank these companies for their commitment to Massachusetts. Their investment and job growth generates benefits in all regions of the Commonwealth, and we are thrilled to publicly acknowledge the achievements of these outstanding corporate citizens," stated Susan Houston, Executive Director of MassEcon.