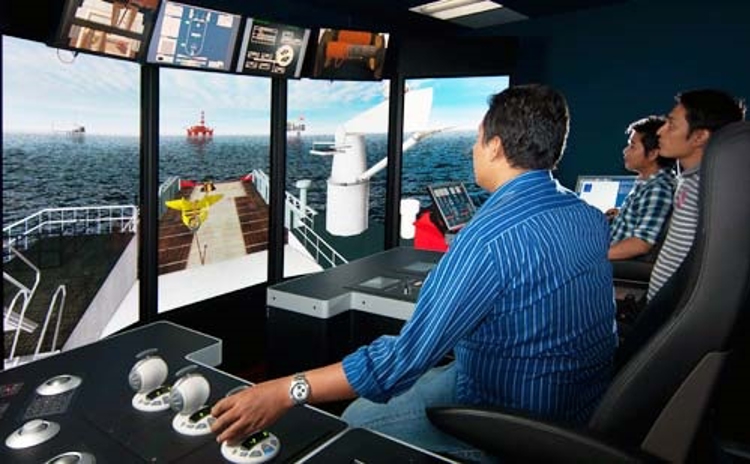 The new training centre will be located in Lagos and serve to support the training of local and foreign offshore personnel involved in offshore oil and gas operations, underpinning a growing market demand for highly competent and qualified personnel for this high risk environment.
With operations in Nigeria, the USA and Trinidad & Tobago, PEM Offshore has a proven track record as a reliable solutions provider offering a wide range of services aimed at improving safety, quality and reliability in the marine and oil & gas sectors. The establishment of the new offshore simulation training centre will create new high-value employment opportunities for the region and underpin the requirements for qualified marine personnel in this primary offshore supply hub for West Africa.
As part of the contract, Kongsberg Maritime will supply PEM Offshore with worldclass simulation training technology, identical to systems found on board many vessels in the world fleet and also provide subject matter expertise to ensure the new training centre meets or exceeds industry standards. The simulator delivery includes both DP Class B and Class C simulation trainers, allowing for advanced dynamic positioning training for certification in accordance with Nautical Institute (NI), Det Norsk Veritas (DNV) and International Marine Contractors Association (IMCA) standards.
The PEM Offshore Training Center will also be certified to DP Class A for use in Sea-time reduction training, where time spent in simulator training significantly reduces time required for live training at sea, enabling safer and more costeffective DP training.
PEM Offshore has also invested in a comprehensive range of technical and instructor (train-the-trainer) programs that will cover all aspects of the DP, KONGSBERG Offshore Vessel Simulator (KOVS), Crane, Bridge and Power Management simulators. To remain current with evolving regulatory changes and the latest KONGSBERG developments, PEM Offshore has also invested in a 5- year, Long Term System Support Program (LTSSP).
PEM Offshore Senior Vice President, Philips E. Matthew, commented: "This is a new venture for PEM that will further our commitment to excellence in our maritime operations for Nigerians and other West African nationals. As the hub of Offshore activity in West Africa, Nigeria is a natural location for this facility. Kongsberg Maritime is the undisputed leader in the Offshore Industry when it comes to advanced technology and excellence in delivering training services. With KONGSBERG at our side, we take great pride in announcing West Africa's first dedicated commercial Offshore Training Facility and KONGSBERG's visible commitment to supporting its customers operating in this important petroleumproducing region."
Kongsberg Maritime Simulation Inc. President, Henry Tremblay added: "This is a strategic win for our company in what is one of the most active geographic areas for oil & Gas exploration and production. This world-class training centre will be equipped with the latest available offshore simulation technology and provide PEM Offshore with the tools it needs to continue growing its expertise in maritime operations. We are very pleased to have been selected for this project."
PEM Offshore's new training centre is accepting course registrations now for training commencing January 20, 2014.