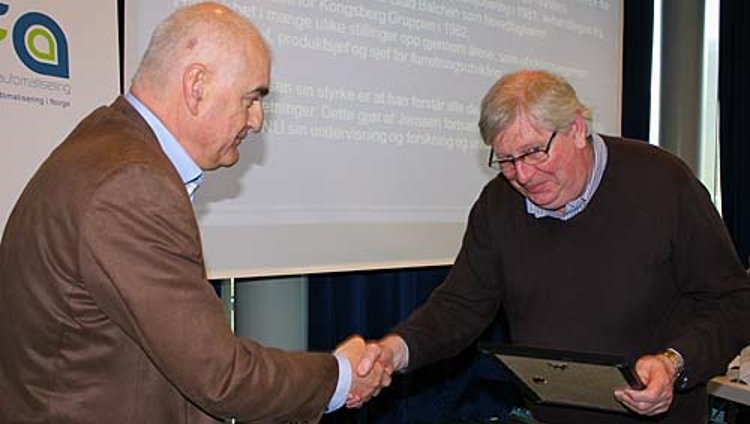 The award is given to individuals who have made an outstanding practical or theoretical contribution to the automation environment in Norway and NFA, to the benefit of society, the development and application of automatic control or contributions to cybernetic theory in Norway and internationally, or individuals who raise awareness and spread knowledge contributing to the recognition and publicity of automatic control in Norway. "Our Honorary Awards are difficult to achieve, and so far we have 9 Honorary Members. Nils Albert Jenssen's candidacy was promoted by professors at NTNU for his legendary contribution to the Norwegian maritime industry. What we especially recognised was his contributions within Dynamic Positioning, which has been a significant product for Kongsberg Maritime. Additionally, Nils Albert understands all the three important fields of technology, market and business," commented Lars Annfinn Ekornsæter, Managing Director of NFA, who presented the award.
A ground breaking contribution
Nils Albert Jenssen was the first to receive a PhD in Dynamic Positioning in 1981, and has held several positions within the Kongsberg Group since 1982. He has contributed fundamentally to Kongsberg Maritime's industrial success. His work in Kongsberg Maritime has been vital for research, development and industrialisation of advanced cybernetic systems for Dynamic Positioning and marine automation for ships and offshore installations. He cooperated with Jens Balchen and Steinar Sælid to develop the basic concept and algorithms for the KONGSBERG DP-system.
NTNU considers Jenssen's scientific contribution as fundamental and ground breaking for the development of the marine cybernetics discipline. Theoretically, he has contributed to increased competence and knowledge about vessel research with applications such as dynamic positioning, course management systems, auto pilots, motion attenuation, thrust allocation and sensor integration among other things.
"I was both surprised and happy to learn that I had been elected as an Honorary Member of NFA," commented Nils Albert Jenssen after receiving the award. "However, I've not done my work alone, but have had many good collaborator throughout the years. Although my initial plan was an academic career, I've been lucky enough to be able to do technical work in addition to trying out new methods and doing business. This is an ideal, but demanding combination. Thank you all for a fantastic award," he said.
About NFA
NFA is Norway's most important, largest and oldest society within automatic control and is idealistically and politically independent. NFA works with networking, development of competence and increased competitiveness for Norwegian industry, and to ensure recruitment to higher education within technology and science. NFA was established in 1958 and is the National Member Organisation (NMO) for Norway in the International Federation of Automatic Control (IFAC). Today, NFA has a membership base of more than 220 companies and educational and research institutions, and more than 850 personnel members.