Kongsberg Maritime has introduced two new Diesel Electric models for its Engine Room Simulator, K-Sim® Engine (previously Neptune). The DE88 Semi-Submersible Drilling Rig model, containing eight Wärtsilä 16V26 engines and eight thrusters, is already available, while the DE66 Drill Ship model, simulating full operation of six MAN 16V32/40 diesel generators powering six thrusters, will be released in Q1 2014.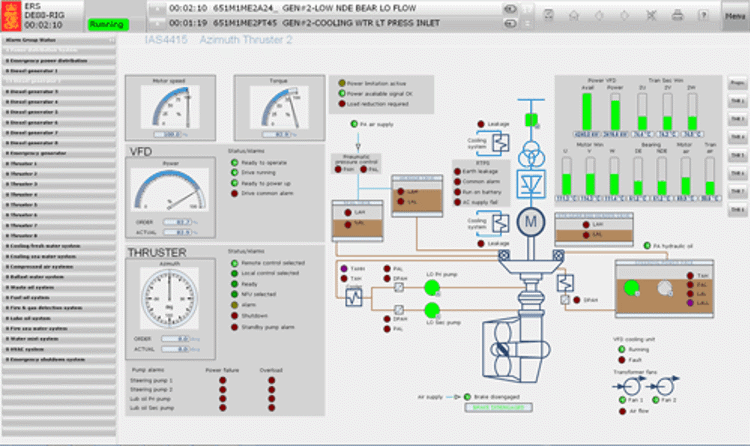 Both new models are designed to support critical learning objectives for offshore engineering crew including complete system understanding under normal operation, fault detection and correction, and decision making training. The high-fidelity training provided by both models on the K-Sim® Engine simulator is designed to mitigate power blackouts on board, therefore significantly enhancing safety and production capacity.
In order to enable trainers to provide highly realistic, in-depth and pedagogically sound training, the DE88 and DE66 models enable simulated interaction with all core engine room subsystems including: Power Generation, Power Management, Central Cooling Water, Ballast System, Fuel and Lube Oil Systems, Start and Service Air, Propulsion System incl. Azimuth Thrusters, Electrical Network, Fire and Gas Detection, Fire Extinguishing Systems, Emergency Shut Down System and the Integrated Automation System (IAS).
"Our new Drilling Rig and Drillship models are complementary to the new generation of KONGSBERG offshore simulators used by high-profile customers around the world," comments Leif Pentti Halvorsen, Product Manager ERS, Kongbserg Maritime. "They are suitable for use in full-mission and desktop K-Sim® Engine installations, providing flexibility for our customers to offer tailored courses to offshore operators seeking state-of-the-art simulator training for Semi-Submersible Drill Rig and Drillship engineers."
K-Sim® Engine now features 17 engine models, covering the most used engines in the shipping, offshore, naval and fishing sectors. All are based on the requirements of STCW Convention, Regulation I/12 and include the new 2010 amended convention that came into force from January 1st 2012.