The next generation of AutoChief propulsion control systems from Kongsberg Maritime is now officially available. The new AutoChief 600 (AC 600) is suitable for all 2 and 4 stroke engines, for both fixed and controllable pitch propeller. It features new touch screen operation based on the Kongsberg Maritime standardised Human Machine Interface (HMI).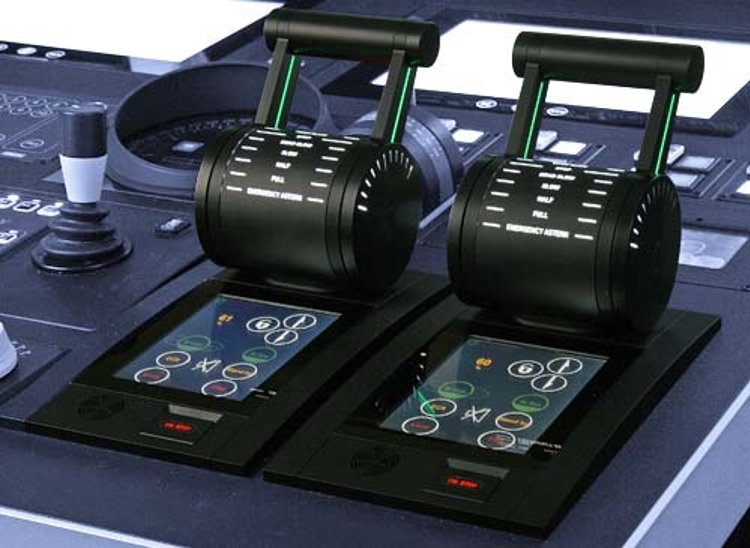 The touch screen interface for AC 600 improves usability by introducing more logical, intuitive menu navigation. Users have access to all system functions via the touch screen, so can display any information quickly and easily whenever it's needed. The main variables available include RPM, pitch, start air and scavenging air pressure, engine state etc. Several levels of control are available to distinguish between user groups.
Whilst simplifying the presentation of information to operators the AC 600 touch screen interface also meets the NAUT OS/OSV requirements for handling Command Control when adapted as a multi plant engine and Thruster control system. This means control can be handed to other systems in the network at the touch of a button. The AC 600 supports integration with Kongsberg Maritime's K-Thrust 600, Azimuth control and Rudder Control system making the system suitable for a wide range of vessels including OSVs, PSVs, oil tankers and container vessels.
The main components of AC 600 are: Touch screen Control Panel, Engine Telegraph Unit, Engine Safety System, Digital Governor System, Manoeuvring Recorder and Distributed Processing Units. All interfaces are on CAN-bus; instrumentation, levers, displays etc. Installation time is significantly reduced as there is no internal wiring between the units. Reliability is high, and all hardware components in the AC 600 system have a built-in-self-test feature (BIST).
"This is the sixth AutoChief since the series started in 1967 and with the inclusion of touch screen operation, it represents a significant technical milestone," comments Hans Otto Schjerven, General Manager – Product, Merchant Marine, Kongsberg Maritime.