Kongsberg Maritime is presenting a new solution for the distribution of Radar data on board ships during Nor-Shipping 2013 (Stand C03-24). Utilisation of an Ethernet based LAN (Local Area Network) is a significant addition to Kongsberg Maritime's K-Bridge Integrated Bridge System and is capable of improving safety and navigation through enhanced Radar functionality whilst offering significant installation benefits. The system is currently undergoing Type Approval testing at DNV, with first customer delivery in Autumn 2013.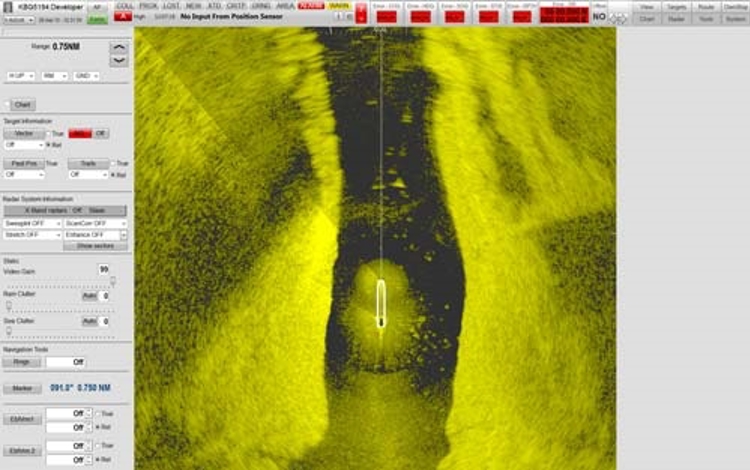 The LAN topology is based on a newly developed Radar Interface Network (RIN) unit to be located at each antenna, connected to the Multi Functional Display (MFD) units on the K-Bridge by a Local Area Network (LAN). Former Radar network topology uses analogue cables and an interswitch, which limits network design, the number of displays data can be sent to and how the data may be handled and presented.
Kongsberg Maritime's LAN network architecture uses contemporary networking methodology. Radar data can be shared by an unlimited number of Multi Functional Displays (MFD's) without a dedicated Radar interswitch. The MFD can be configured as a standard Radar display, or it may be configured with additional views combining information from several integrated subsystems. An example of this is the possibility of views mixing the Radar image with data from a dynamic positioning system.
The new Radar topology provides significant enhancements in how Radar data is presented, made possible because of the digital network, improved signal processing and automatic Radar and picture tuning. Images from several Radar antennas can be viewed on the same screen including the possibility to view both X-band and S-band data in the same image. By presenting a picture compiled in real-time from several Radar antennas, the operator is given a high quality, detailed picture that displays seamless tracking of up to 1000 targets in a full 360 degree view.
Because the Radar LAN is based on standard Ethernet data cables instead of the analogue cables traditionally used for Radar, much longer distances between the display and antenna can be achieved, which enables more flexible network design with considerably lower installation and maintenance costs.
"The new Radar topology introduces digital networking to Radar, so it is a significant step-forward in navigation and safety technology," comments Gudbrand Strømmen, Navigation Development Department Manager, Kongsberg Maritime. "The possibilities this introduces can transform how Radar is used on board. At the same time, we are able to offer such a wide range of new functionality, that will improve navigation safety and efficiency whilst reducing installation costs and providing a highly redundant and easy to maintain Radar system."