Organised by Kongsberg Maritime, FEMME is the Forum for Exchange of Mutual Multibeam Experiences. This biennial conference brings together a diverse delegation of Kongsberg Maritime multibeam users, who regard it as one of the most rewarding events of its kind on the calendar. FEMME is a truly global affair – this year 170 people attended from 27 countries.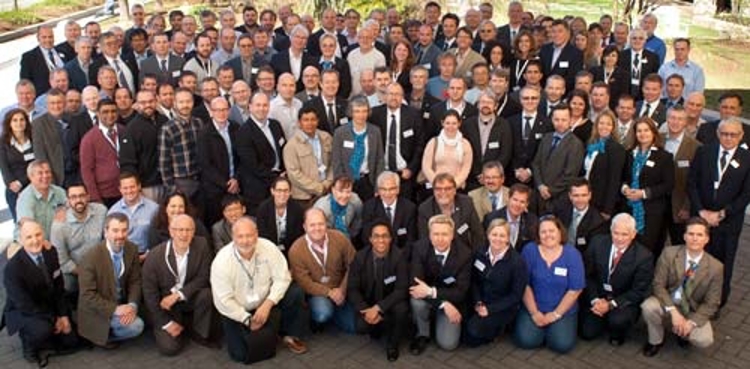 The main conference was opened by Arnt-Helge Olsen, Vice President Subsea Sales at Kongsberg Maritime on Wednesday 17th April and the audience was treated to an interesting opening address by Larry Mayer, Professor and Director of the Center for Coastal and Ocean Mapping/NOAA-UNH Joint Hydrographic Center at the University of New Hampshire.
His presentation, titled An 'Almost Old' Man's Look at from Whence We've Come and Where We May be Going, looked in-depth at the area of bathymetry and improving data quality. Other topics covered include the growth of ocean mapping applications and how this is tied to backscatter, and water column measurements, whilst asking; "Why can't we map our own planet as completely as we've mapped the moon and mars?"
A big question certainly, and a presentation that really engaged the audience. Larry also played a part, as one of several joint authors, in the presentation that followed his opening address, when J. Beaudoin from the University of New Hampshire looked at Multibeam Echosounder System Optimization for Water Column Mapping of Undersea Gas Seeps.
Papers with topics from different applications, both traditional and new were presented during the conference and all were at a very high technical level. Topics covered included logging, displaying and processing water column data, also referred to as mid-water column data, and seabed backscatter data. With new more powerful systems and technology the potential and the usage of these data are increasing rapidly, which was highlighted in papers throughout the conference.A lot of interest was also taken on how to ensure that the quality of the bathymetric survey was in compliance with the IHO S-44 standards, especially on target detections. To achieve this, the importance of good alignment and calibration of all systems was highlighted. This is especially important since the Kongsberg Maritime EM 2040 produces very clean and high resolution data, displaying more and smaller features on the seabed.
"More data and better data quality will have a great impact on the data flow and the production line from logging to finished products," explains Helge Uhlen, Product Sales Manager, Kongsberg Maritime. "Amazing results were presented, from pipeline inspection and shallow waters surveys to deep waters survey from different research projects."
Regardless of topic, several key aspects tied all presentations together; they were presented by experts to experts, and featured real technical detail that the audience could openly discuss and take away with them to help them in their own work.
"We were delighted with the quality of presentations from our users and Kongsberg Maritime staff during FEMME," comments Arnt Helge Olsen, Kongsberg Maritime. It gave us the opportunity to update our customers on new developments with Kongsberg Maritime technology but most importantly, it provided our user community with an open forum for discussing the use of multibeam technology and how as an industry, we can continue to improve our use of this vital technology."In addition to the many customer papers, Kongsberg Maritime presented several new products including the new EM 2040 Compact, which is a small version of the EM 2040. Throughout the conference, Kongsberg Maritime took many requests for new features and improvements to its products, which it considers a key part of events like this. On FEMME 2013 itself, feedback from delegates was overwhelmingly positive:
"FEMME is an impressively well-organized conference, with an amazing technical level of users' presentations." – Commander Aluizio Oliveira, BRAZILIAN NAVY
"It has been a great experience. We have learned a great deal and would recommend that other hydrographic users in Latin America come to the next FEMME." – Mr. Rodrigo Torres, PERUVIAN NAVY
"Very good conference overall. The level of expertise and the organization of this event is great." – Karen Hart, CARIS
"I want to thank everyone involved for an excellent week, well managed under difficult circumstances. Your speakers were of a high level, the hospitality excellent and the whole event left a very good impression."- Rich Lear, DOF Subsea A/S
The next FEMME will take place in Autumn 2015 in Singapore.