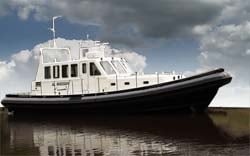 Unique Maritime Group, one of the leading integrated turnkey subsea and offshore solution providers, has announced the supply of a full package of survey equipment for a new hydrographic survey vessel, with the purpose of conducting a detailed mapping of Qatar's coastal waters.
The package included KONGSBERG EM 3002D dual-head multi-beam echo sounder system (now available as the EM 2040), KONGSBERG EA 400 single beam echo sounder, KONGSBERG Seapath 200 RTK system with radio telemetry ADL Vantage by Pacific Crest, KONGSBERG MRU-5 motion reference unit, Midas SVP by Valeport sound velocity profiler, self recording SVP and portable tide gauge by Valeport, Hypack and Caris post processing workstations and software.
Commenting on this key project, Ian Huggins, General Manager of Unique Systems FZE said: "Our client had a very specific requirement for speed and a robust solution. We were able to work with the vessel manufacturer during the build, to equip the vessel with unique technology to work and carry out even multibeam surveys in extremely bad sea conditions and at very high vessel speeds. Unlike other installations, there are no vibrating parts or installation protrusions, which could limit the survey speeds. Hypack software was used for data collection and processing of data and CARIS software was used for the QC check and further processing of the surveyed data."