Norman ASA, a global security leader, enters an OEM agreement where it will supply the Norman SCADA Protection (NSP) system to Kongsberg Maritime. KONGSBERG will use the NSP security solution in its maritime systems that it supplies worldwide. Kongsberg Maritime is a leading global supplier of maritime systems for dynamic positioning and navigation, marine automation, cargo management and level sensors, maritime training simulators and position reference systems.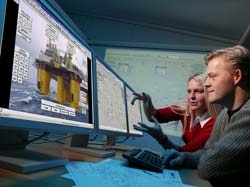 With recent Stuxnet malware attacks on industrial software and systems, manufacturers, utilities and industries are seeking sophisticated security solutions to protect SCADA systems used for monitoring and control of industrial infrastructure.
To meet this challenge against advanced persistent threats like Stuxnet, Norman has developed the Norman SCADA Protection system to protect against cyber attacks from malware such as trojans, worms and viruses that can cause millions of dollars of damage and disruption to production and services delivery.
SCADA (Supervisory Control and Data Acquisition) describes computerized industrial control systems (ICS) that monitor and control industrial and infrastructure processes. SCADA systems can be found in manufacturing environments, public transportation systems, power generation and distribution, nuclear plants, pipelines, in oil and gas industries and in maritime environments.
According to government studies, SCADA systems have historically been engineered for performance, reliability, flexibility and safety, while security has been weak to non-existent.
"Kongsberg Maritime needs the most advanced SCADA security system available to protect our customers against cyber attacks and serious malware threats, such as Stuxnet," said Stein Arne Riis, Product Manager, Product Development, Kongsberg Maritime. "Norman worked with us closely to deliver the most powerful system available in order to protect our systems against the most advanced and persistent threats."
NSP is a part of the Norman Network Protection (NNP) product family, which is a high performance anti-malware protection system, designed to provide malware protection to corporate and industrial networks. The NNP family of appliances delivers industry-leading malware protection with higher performance and at a fraction of the cost of competing solutions.
Easy-to install and easy-to-use, NNP family solutions are engineered to protect manufacturers, SMB, financial institutions, health care and government agencies seeking the highest protection against today's growing malware threats.
"We are delighted to be working with Kongsberg Maritime to harden critical SCADA systems against cyber threats to industrial infrastructure installed around the world," said Oivind Barbo, vice president, Business Development, Norman.
Norman SCADA Protection solutions will be installed at the network perimeter and prevents ICS systems from being infected by malicious code transferred across the network. The ICS computers will in addition be protected against unsecured portable storage devices, commonly used by service personnel, who might intentionally or unintentionally expose the computers with attack code like the Stuxnet. The NSP provides a unique solution securing any such portable storage devices to be used safely with the SCADA systems, adding a critical line of defense against one of the most common yet effective cyber attack strategies.