Kongsberg Maritime simulators go online at SimSea in Haugesund, Norway.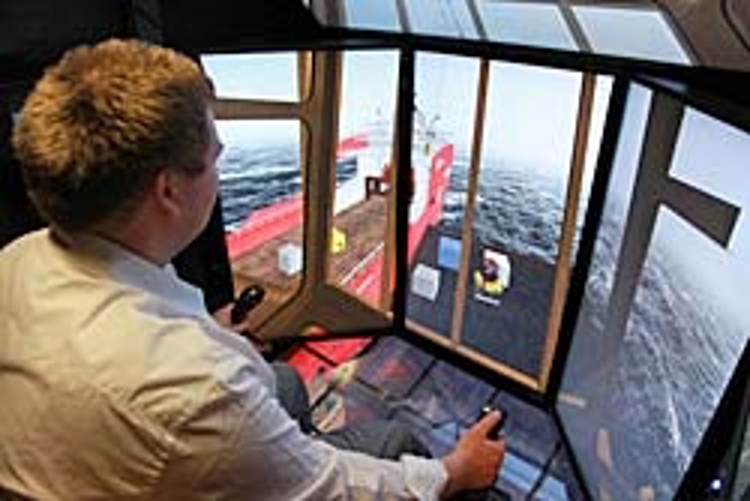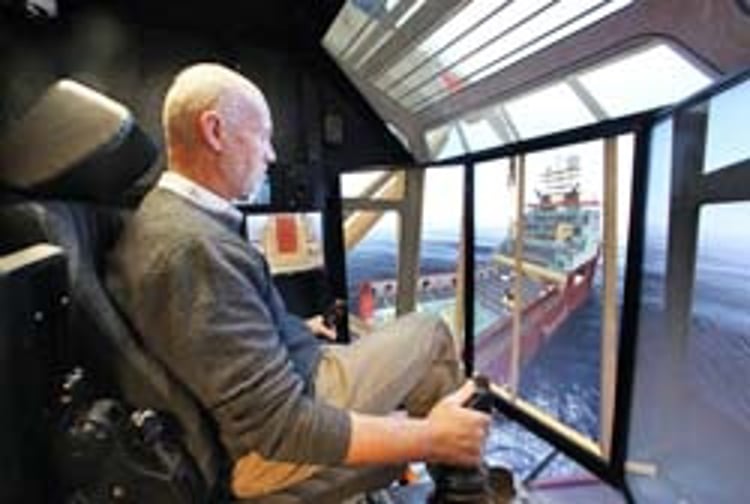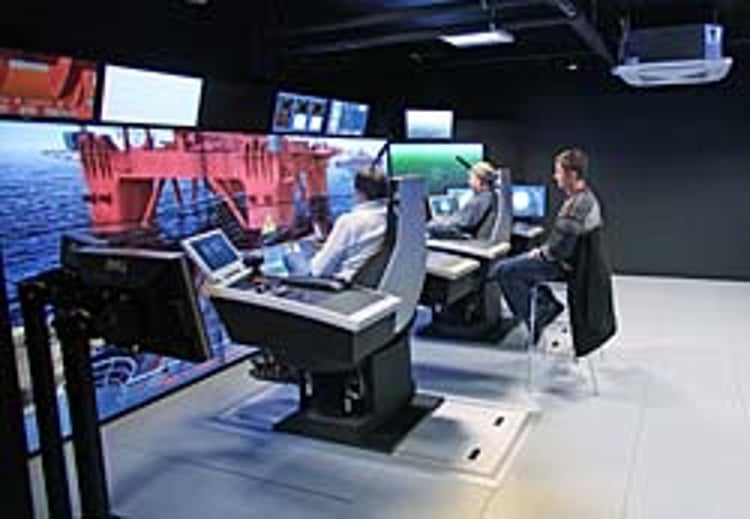 The official opening of the all-new KONGSBERG Offshore Vessel Simulator at the SimSea AS maritime training centre in Haugesund, Norway, took place on the 9th February 2012. The simulator, which is part of a 1300m2 simulator park, is one of the most advanced of its kind, offering fully integrated training on offshore vessel operations for crew and operator training in addition to mission planning applications.
The new SimSea training centre was officially opened by Director General of Shipping and Navigation at the Norwegian Maritime Directorate, Olav Akselsen, who expressed that the SimSea initiative is very positive for the maritime and offshore industry. Also present at the ceremony was Kongsberg Maritime's Executive Vice President Ole Gunnar Hvamb, who stated: "We are proud to be a part of this initiative and trust that SimSea will contribute to increase crew competence and enhance safety in offshore operations."
In total 60 guests were gathered for the opening ceremony; among them many shipowners from the maritime cluster of Haugalandet, which represents one of the most significant maritime and offshore areas in Norway.
The new SimSea facility is based on a 360 degree visual KONGSBERG Offshore Vessel Simulator with interface to a range of specialised task simulators for team training of complex offshore operations. This enables SimSea to offer courses covering the whole spectrum of offshore operations including: Basic and advanced Dynamic Positioning; anchor handling; aft bridge; forward bridge navigation; offshore loading, tandem and buoy; ROV, ECDIS and BRM/CRM acc. to STCW and drilling platform ballast & stability. The DP simulator is integrated with the KONGSBERG K-Pos DP21 system and fulfils the Nautical Institute's DP training requirements, allowing for a reduction in training time at sea.
Also included in the delivery is an assisting offshore vessel simulator that can be configured as a 2nd anchor handling vessel for team training of complex anchor handling operations and an offshore crane simulator, which has been supplied by the KONGSBERG subsidiary, GlobalSim. It is integrated with the Offshore Vessel Simulator for team training and enhanced realism, and realistically simulates a deck-mounted knuckle-boom crane or a wire-luffing lattice pedestal crane for platform lifting operations.
All simulated operations can be carried out individually as well as in an integrated environment where all simulated variables interact with each other to replicate a unique realism in the simulated scenario. SimSea is able to provide individual operators and teams with realistic training and valuable pre-operational procedural testing, which is a new capability emerging in the offshore training arena, driven by Kongsberg Maritime's continued development of integrated simulation.
"Integration is critical to improving safety and competence for hazardous offshore operations," explains Rune Johansen, Director, SimSea. "Ours is perhaps the most integrated Offshore Vessel Simulator in operation so we are able to provide a unique platform for highly realistic team training that covers all aspects of offshore vessel operation either as standalone modules or as fully integrated training exercise."
"The KONGSBERG Offshore Vessel Simulator at SimSea shifts the focus from single task training to a more holistic approach where crew work together to safely operate a vessel during hazardous operations, such as anchor handling or loading and unloading. This method of training supports the on-going efforts of owners and operators to enhance competence for the entire crew. Every aspect of an offshore vessel's operation has a tangible effect on its safety and efficiency so improving the competence of the entire team through integrated simulation is very important," adds Søren Einar Veierland, Business Manager, Kongsberg Maritime Simulation & Training.