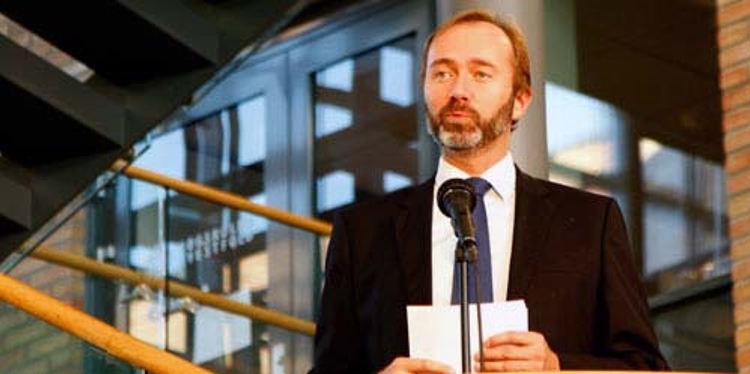 Sonja Gundersen from Kongsberg Maritime explained how PGS work deck crew use the so-called Deck Operator Trainer simulator to train recovery of seismic streamers on a seismic vessel. The technology impressed the Minister:
"It is better to make mistakes here than in real life", he pronounced.
Praised the Horten cluster
In his opening speech, Trond Giske underlined the importance of the maritime cluster in the Horten area, of which Kongsberg Maritime is an important part. Kongsberg Maritime co-operates closely with Vestfold University College, and the minister would like to see more of such close ties between research facilities and the industry.
"Norway has a more complete maritime cluster than any other country. The Horten region is one of the most successful Norwegian regions when it comes to promoting cooperation and good results by focusing on collaboration between research and industry", Trond Giske said.
Cooperation
Kongsberg Maritime has a close relationship with Vestfold University College through several different research and product development projects. Kongsberg Maritime has also delivered an Offshore Vessel Simulator to the SimSam lab, along with various simulators for education purposes. Recently KM Training opened a new facility at the college, to offer training to customers. Earlier this year the two parties signed a partnership agreement to collaborate even closer on the development of Marine Resource Oslo Fjord (MKO).
Kongsberg Maritime has also awarded an endowed a five year professorship to Professor Kjell Ivar Øvergård, intended to strengthen the college's commitment to maritime research.