Certificates awarded to KONSGBERG liquid cargo handling training simulators.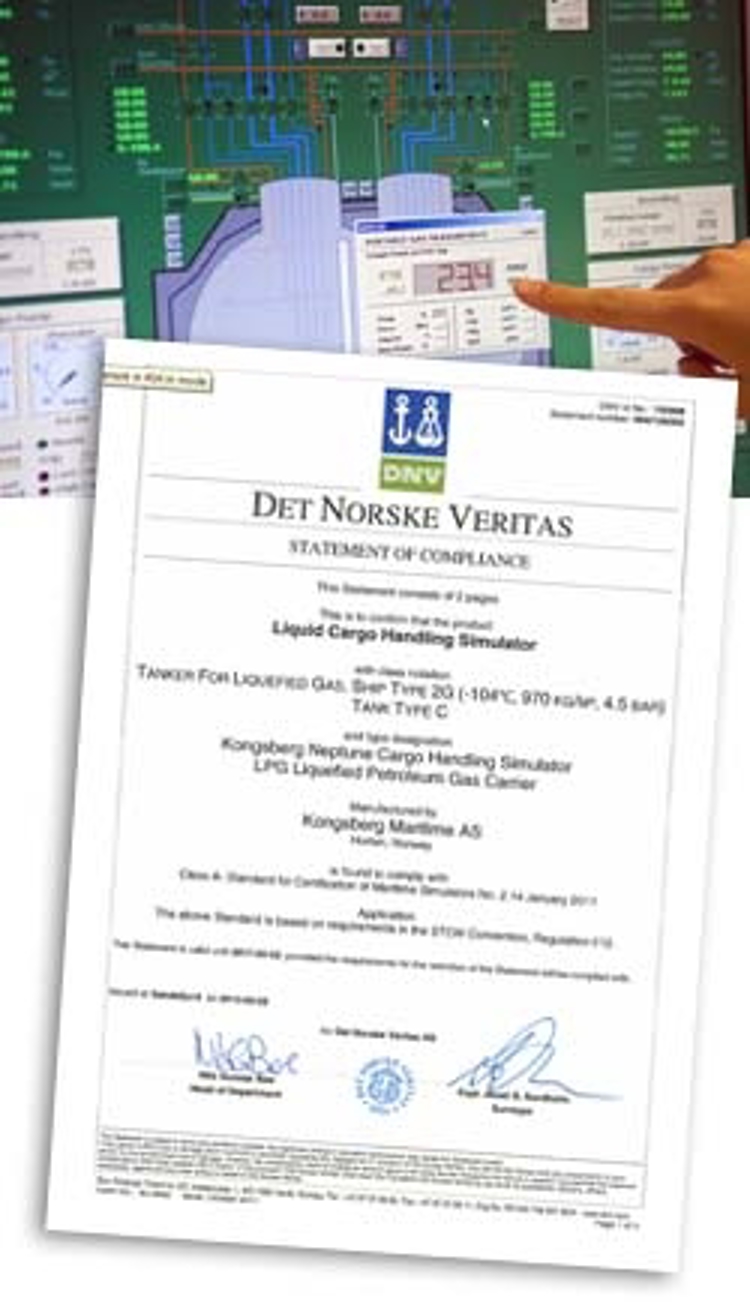 Kongsberg Maritime's Neptune Cargo Handling Simulator has been approved to the latest Det Norske Veritas (DNV) standards. The Class A approval, received early March 2012, covers the ship models available within the system and joins recent DNV certification for Konsgberg Maritime's Engine Room and Navigation Simulators.
In addition to approval for its VLCC Load Calculator system, Kongsberg Maritime has received DNV certification for six ship models available in the KONGSBERG Neptune Cargo Handling Simulator. These are: LPG Carrier, LNG-M (Membrane), LNG-S (Spherical), Chemical Carrier, Product Carrier and VLCC.
"It is important to ensure all of our simulators have approvals to the highest standards. It supports us in meeting customer and industry demand for the highest quality training tools whilst demonstrating that our systems are designed to operate under the most up to date legislation," comments Terje Heierstad, Product & Technology Manager, Kongsberg Maritime.
The KONGSBERG Neptune Cargo Handling Simulator also meets the requirements of STCW section A-II/1, A-II/2, A-II/3, A-III/1, A-III/2 and A-V/1 that states the requirements for planning and ensuring safe loading, care during the voyage and unloading of cargoes as well as maintaining seaworthiness of the ship regarding trim, stability and stress.
All models within the Neptune Cargo Handling Simulator are based on real ships and benefit from Kongsberg Maritime's position as a leading supplier of integrated automation and cargo handling systems. Several different simulator configurations are available where the cargo control room may be represented by any combination of interactive mimic panels, operational panels, consoles and/or desk-top stations.
"Because Neptune is based on the same core software, it is extremely flexible. It enables our customers to specify the exact configuration they need and can be easily upgraded or expanded according to changing needs," adds Steffen Jensen, Product Advisor, Cargo Handling Simulators, Kongsberg Maritime.