Leading navigation simulator certified for new STCW Convention requirements.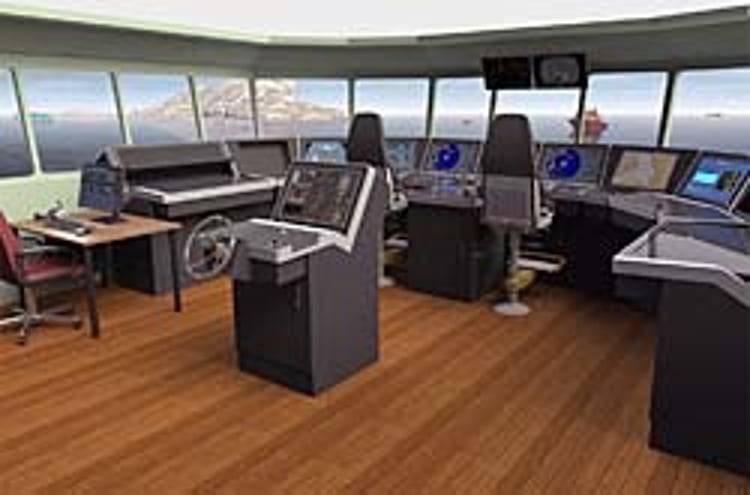 Kongsberg Maritime's cutting-edge Polaris Bridge Simulator has received new DNV approval for the product category Bridge Operation Simulator, which includes notifications for training on integrated bridge systems including integrated navigation systems.
The approval, which was awarded 18th January 2012 is according to the revised standards laid out in DNV – Standard for Certification of Maritime Simulators No. 2.14 January 2011, which is based on the requirements of STCW Convention, Regulation I/12 and includes the new 2010 amended convention that came into force from January 1st 2012.
"As the leading maritime simulator developer we are committed to ensuring our simulators are approved to the most stringent industry standards, as it ensures that our customers can offer training that meets all industry requirements for safety and regulations," says Terje Heierstad, Product & Technology Manager, Kongsberg Maritime.
The Kongsberg Maritime Polaris Bridge Simulator enables flexible training in ship handling, manoeuvring and navigation, based on cutting-edge visuals and realistic hydrodynamic modelling. Polaris may be delivered as a full-mission, 360 degree, motion platform based integrated simulator, a part task simulator (ECDIS, radar etc), a PC based desktop simulator or as any combination of these.
The new certification ensures that the Polaris Bridge Simulator meets or exceeds the highest standards set out by DNV in regards to simulator training and follows a round of certification for the Kongsberg Neptune Engine Room Simulator, which was approved to the latest DNV standards in December 2011.