New structure and systems for leading Global Support Organisation.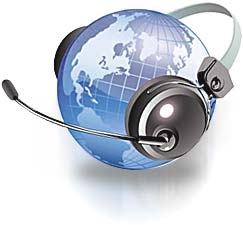 Kongsberg Maritime has introduced a number of key enhancements to its Global Customer Support organisation. Alongside improvements to remote service capabilities and certification, the major maritime technology developer, which is exhibiting its portfolio of systems for maritime transport vessels on stand 4.311 at Posidonia 2012, is introducing a new Customer Support Front End, which will ensure efficient 24/7 response by service personnel for all enquiries.
The Global Front End is staffed by a dedicated experienced, technically competent team, distributed in Norway, Singapore and New Orleans. Their job is to provide handling of front-line customer enquiries, ensuring proper response and follow up to specific KPIs. The changes to the organisation ensure that a team is active at all times of the day globally, so calls and emails from any region at any time will always be answered by qualified personnel, with no automated responses. This will be supported by a sophisticated new support centre setup using a new common virtual multi user workstation sharing desktop, with live video streaming for efficient case solving. Both new developments are due to be completed and online by Q3 2012.
Other support focused changes at the company include upgrades to its remote diagnostics service, which enables Kongsberg Maritime engineers to connect to equipment on vessels at sea using a satellite link to securely view and change software configuration. New virtual collaboration centres featuring state-of-the art communications technology, a new service desk software platform, which offers a full overview of installed systems on more than 20,000 vessels with real time traceability of all customer enquiries and support activities, and a web portal for customer login are also due to go live in the second half of 2012.
The Kongsberg Maritime Global Customer Support organisation is also developing global certification & competence management training, which will result in mandatory certification for all GCS service engineers. Finally, Kongsberg Maritime is strengthening its 'Full Picture' proposition by developing systems to support the full range of its products on a vessel from a dedicated team, rather than through individual product support.
"Kongsberg Maritime systems are developed for the specific vessel types and the environments they operate in. Despite our own and our customers' confidence in these systems, it is still vital that we are able to provide high-levels of support for customers in terms of service, maintenance and troubleshooting. Based on this, we are committed to improving our already established Global Customer Support organisation to ensure minimum downtime for vessels operating with our systems on board, should a service issue arise," comments Rune Haukom, General Manager, Global After Market Support, Kongsberg Maritime.