A Kongsberg GeoAcoustics GeoSwath Plus wide swath system was used to aid the voluntary relief effort in the aftermath of the Tohoku Earthquake which took place in Japan one year ago.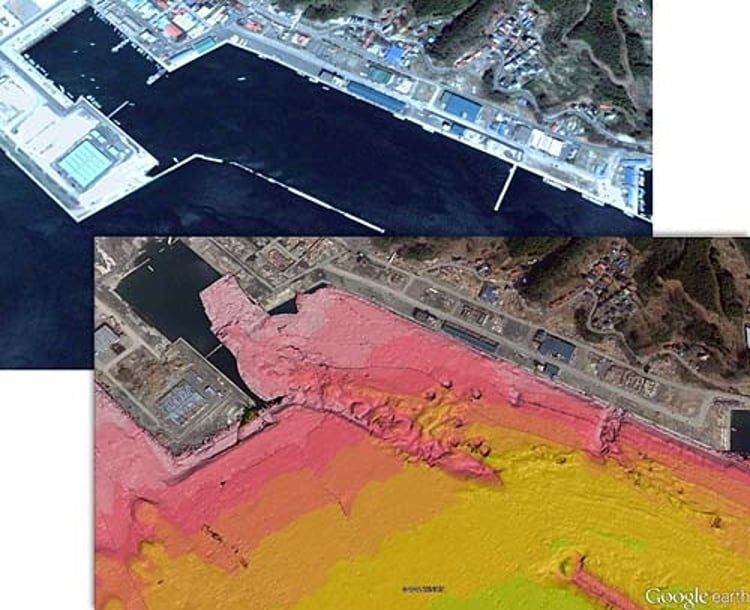 Marine technology plays a crucial role in relief, reconstruction and research efforts in the aftermath of this natural disaster. One example are the efforts undertaken by TOYO Corporation who spent close to two months surveying affected areas in collaboration with, among others, University of Tokyo and Kumamoto University, using the GeoSwath Plus wide swath system, which was provided free of charge by Kongsberg GeoAcoustics.
The earthquake , which was one of the most powerful one in human history, occurred 70 km off the coast of Japan. It triggered a tsunami which hit the coast of Iwate, Miyagi and Fukushima prefectures, with wave heights of more than 40 m, travelling up to 10 km inland with devastating results. It left more than 20,000 people dead or missing and Japan is still struggling with its nuclear after effects and reconstruction efforts.
About the GeoSwath Plus shallow water multibeam echosounder
GeoAcoustics GeoSwath Plus offers very efficient simultaneous swath bathymetry and side scan seabed mapping with accuracies that have been shown to exceed the IHO Standards for Hydrographic Surveys. The applied phase measuring bathymetric sonar technology provides data coverage of up to 12 times the water depth, giving unsurpassed survey efficiency in shallow water environments. The same area can be mapped 30% to 40% faster using GeoSwath Plus than with a typical beamforming echosounder.
Contact information
Contact details for further information and image requests: