AUV to be used by Naval Oceanographic Office for deep ocean operations.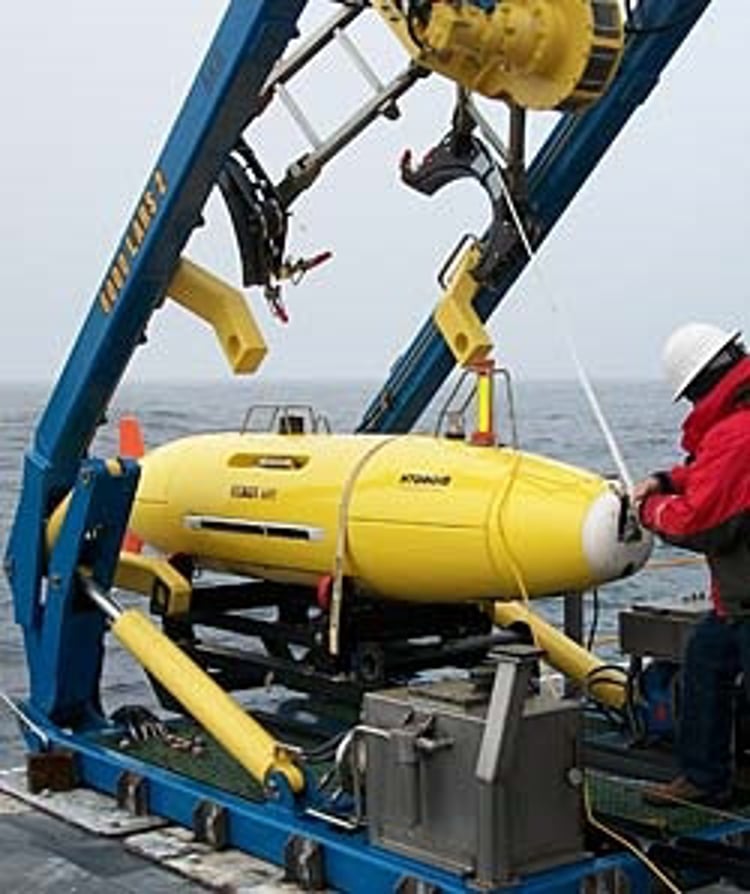 Hydroid, Inc., a subsidiary of Kongsberg Maritime, the leading manufacturer of Autonomous Underwater Vehicles (AUVs), announces that it has delivered a REMUS 6000 AUV system to the Woods Hole Oceanographic Institution (WHOI), to be used by the Navy in deep ocean operations.
The REMUS 6000 AUV is the deepest member of Hydroid's growing family of AUVs. It was designed under a cooperative program involving the Naval Oceanographic Office (NAVOCEANO), the Office of Naval Research (ONR) and WHOI in support of deep-water autonomous operations. The vehicle boasts the same proven software and electronic subsystems found in Hydroid's highly successful REMUS 100 AUV, with a depth rating, endurance and payload that allow for operations in up to 6,000 meters of water.
"Our engineers and technicians will develop and install system enhancements to the standard vehicle, as well as perform system testing prior to delivery to the Navy," said Tom Austin, principal engineer at WHOI. "Once the vehicle is delivered, we will continue to provide operational support."
Although the vehicle was purchased by WHOI as the primary AUV platform for new sensor and system integration enhancing NAVOCEANO capability for Navy missions, the ultimate end user for this REMUS 6000 is NAVOCEANO, which acquires and analyses global ocean and littoral data and provides specialized and operationally significant products and services to all elements within the Department of Defense. This most recent vehicle procurement by WHOI will eventually operate as part of the existing fleet of REMUS 6000 vehicles that the Navy utilizes for deep ocean operations, thus increasing their overall operational capabilities.
"The deep-diving REMUS 6000 is in a class of its own," noted Christopher von Alt, President and one of the co-founders of Hydroid. "It was designed to autonomously carry a payload to great depths in order to measure ocean water characteristics and map the seabed. It's also incredibly versatile, which makes it an ideal tool for NAVOCEANO's operations. We're pleased to continue our tradition of providing solutions for partners such as NAVOCEANO and WHOI."
Hydroid's REMUS AUVs are modular and may be fitted with a large number of different types of sensors and have been used to aid in hydrographic surveys, harbor security operations, scientific sampling and mapping, as well as many basic and applied research programs funded by ONR, DARPA and the UK Ministry of Defense. With over 300 vehicles in the field, Kongsberg Maritime is currently the AUV market leader.