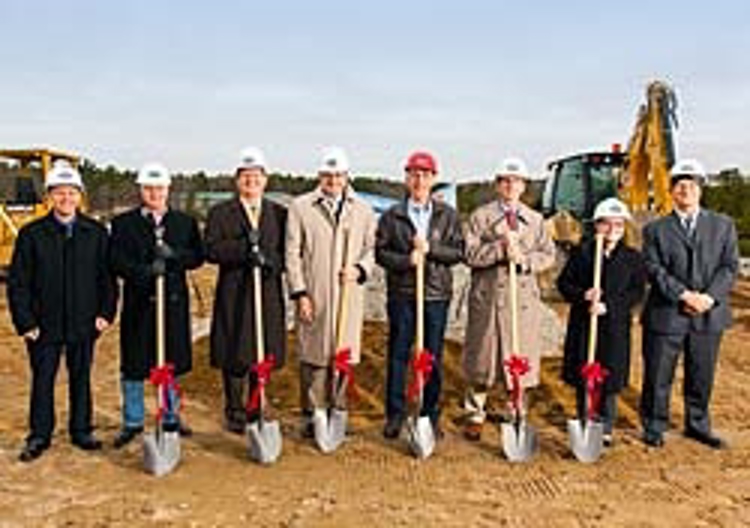 Hydroid has broken ground and begun construction on its new manufacturing and applied research facility in Pocasset, Massachusetts. "Outgrowing our old space gave us the opportunity to design a facility that will protect the environment and keep Cape Cod the wonderful place it is today, all while creating great jobs," said Chris von Alt, Hydroid's president and CEO. "Hydroid's leadership team has worked closely with the town of Bourne and the Cape Cod Commission to ensure this new facility does just that."
The new headquarters, located just a short distance away from Hydroid's current home, will have 40,000 square feet of floor space. The building will provide a venue for the company to further its mission of building the world's best AUVs for both military and commercial use, providing room for the company to grow substantially. Hydroid plans to add to Kongsberg Maritime's industry-leading total of more than 300 vehicles in the field, and the company expects to hire at least 21 new employees during 2013.
"Hydroid is the type of business communities strive to attract and keep," added Chris Farrell, chairman of the town of Bourne's planning board. "Companies like Hydroid create jobs with sustainable wages, which then allow people to buy homes and other goods, creating a desirable community for residents and business owners alike. We are pleased to have worked with Hydroid on this project and are very happy that they have chosen to stay in Bourne."
Von Alt, Farrell and Patty Daley, deputy director of the Cape Cod Commission, were among the speakers at a groundbreaking ceremony at the new site today.