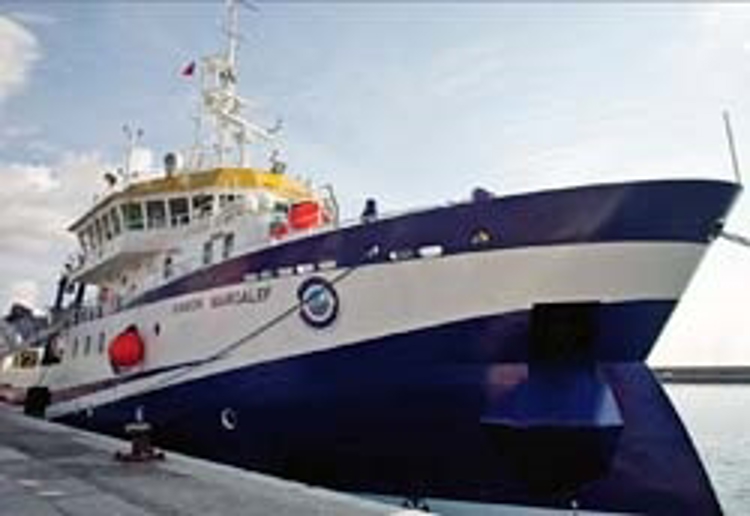 The new multi-purpose research vessel R/V Ramón Margalef, which belongs to the Spanish Oceanographic Institute (IEO), was undergoing sea trials when the Science Ministry decided to move it to the Canary Islands to follow up on the activity of the volcano on El Hierro Island. The vessel was only delivered a few weeks previously, on 23 of September 2011, so with such a challenging first mission, this really was a trial by fire.
During the first week of the mission, the goal was to map the volcano so researchers had a clear view of its footprint. It didn't take long for the team to build a good picture of the volcano using the data acquired with the Kongsberg EM 710 multibeam echo sounder system installed on board R/V Ramón Margalef.
After the volcano was located, the EM 710 was used to measure dimensions such as cone height from the bottom and diameter. The IEO team compared this data with a dataset from the same area acquired on board R/V Hespérides using the Kongsberg EM 12 in 1998, in order to calculate how much the volcano had risen.
The team then went on to research the gasses and water column using the six different frequencies of the Simrad EK60 scientific echosounder and Simrad ME70 scientific multibeam echosounder. Once the area was fully mapped the ROV operations started, which enabled the team to view high quality video of the sea bottom around the volcano captured by HD cameras supplied by Kongsberg Maritime in Aberdeen.
The vessel is normally performing different oceanography missions launching various sensors, with vessel navigation supported by Kongsberg Maritime's K-Pos Dynamic Positioning and K-Bridge Integrated Bridge System.
So not only was this first mission a trial by fire for R/V Ramón Margalef, but the Kongsberg Maritime Full Picture delivery onboard has been put through its paces too. The systems performed reliably and accurately from the offset, enabling the team to acquire the data they needed to make the first mission for R/V Ramón Margalef a great success.