Kongsberg Maritime Korea conducts milestone Factory Acceptance Test.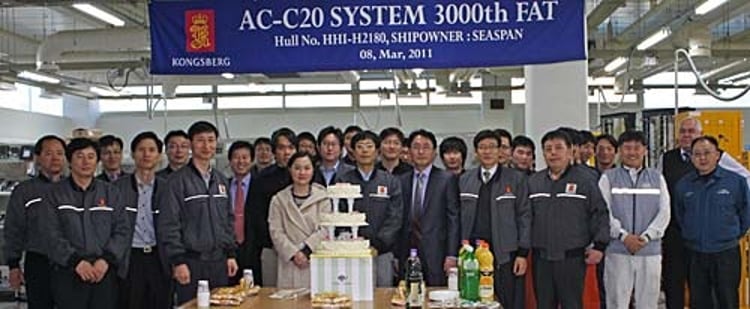 Kongsberg Maritime is delighted to announce Factory Acceptance Test (FAT) number 3000 for its highly regarded propulsion control system, AutoChief C20. The FAT took place March 8th 2011 at Kongsberg Maritime Korea's facility in Busan, South Korea, with representatives from Hyundai Heavy Industries (HHI) and a Lloyd's Register surveyor present.
Following the successful FAT, the system will be delivered to Hyundai Heavy Industry Engine Maker Division, for use on a large 2-stroke engine aboard HHI new building no. H2180, for shipowner Seaspan. HHI has been an important part of the AutoChief C20 story, having been the first customer to shop test the system, on a MAN B&W 6S70ME engine for a Sovcomflot vessel in November 2004.
"For the seven years following its launch in 2004, we have produced and delivered 3000 AutoChief C20 systems, which is two times faster than the previous AutoChief generation," comments Aage Foerrisdal, Vice President Propulsion Control & Power Management, Kongsberg Maritime. "AutoChief C20 number 3000 is a fantastic milestone to reach and we're positive that this market leading automation system has plenty of deliveries yet to come."
AutoChief C20 is the fifth generation of Kongsberg Maritime's propulsion control system which was originally launched in 1967. Since then, the system has undergone several major redevelopments in order to support the advances made by engine manufacturers and automation technology.
AutoChief family timeline
The AutoChief C20 system is designed for low to medium speed diesel engines with fixed or controllable pitch propellers. Reliable, straightforward operation and quality of engineering makes the AutoChief C20 an ideal control solution for all the major engine manufacturers. Its striking exterior design also serves the purpose of simplifying operation, making it a popular choice with crew and engineers also.