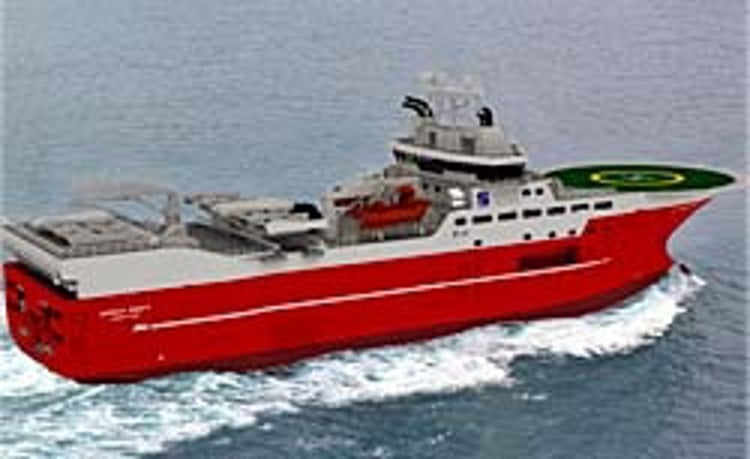 Kongsberg Evotec has been awarded a contract with Kleven Maritime (Myklebust), Sanco Shipping and Dolphin Geophysical, for the complete back-deck handling system on Sanco Shipping's new (up to) 16 streamers seismic vessel built to be operated by Dolphin Geophysical AS.
The ST324 designed by Skipsteknisk in Aalesund, will be built at Kleven Maritime's shipyard Myklebust Verft in Sande, for the owner Sanco Shipping, and will be operated by Dolphin Geophysical AS from Bergen.
The contract will be the first large contract received after Kongsberg Maritime acquired Evotec AS earlier this fall.
The vessel would be able to tow up to 16 streamers and has the latest and greatest technology when it comes to handling of cables, wires and ropes, both in terms of the chosen drive units, as well as the high performance control system including intelligent IO nodes and the latest Industrial Ethernet technology.
Each streamer winch will be able to contain minimum 12 000 meters of streamer cable.
This project represents a unique cooperation between local companies belonging to the maritime cluster on the north-western coast of Norway (Sunnmøre), and where the majority of all work and fabrication of the onboard handling system will be done in Norway.
This will enable Kongsberg Evotec AS to continue with the strategic and ambitious plans for expanding the company, and to get a larger presence in this important geographical maritime area. New employees will be needed to fulfil this and other projects that we have been awarded, and this is a very strategic important contract as we are in the middle of the process of building a new common location for all the employees.
For more information please contact
Torkjell Ringstad
Senior Vice President Sales & Marketing