New Australian college chooses Kongsberg Maritime simulators.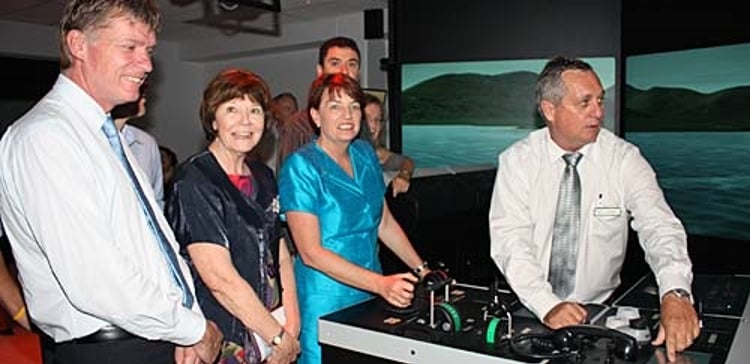 The installation of a new suite of navigation simulators has been completed at the all-new Great Barrier Reef International Marine College (GBRIMC) in Cairns, Australia. Installation took place in January 2011 and consisted of a 270 degree DNV Class A full mission bridge simulator, a 180 degree tug bridge, 8 desktop navlab stations with part task simulators for ECDIS training and an instructor station.
The simulator delivery features exercise area databases of Australia's busiest ports. An extensive library of ship-models, from small sports-fishing boats through superyachts to oil tankers and cruise ships, gives GBRIMC the flexibility to train different types of crew and competencies and the full mission bridge and the tug simulators are integrated, so students may operate both within the same exercise.
The simulator installation was completed within six months of receiving the order and is based on the latest technology and functionality available, ensuring that GBRIMC has the flexibility to offer a variety of different courses according to Kim Anderson, Project Manager, GBRIMC: "The simulator is ideal for training at all levels, from coxswains to foreign going master and pilot training," he said.
The GBRIMC simulator suite was funded by the Queensland State Government and went operational on 24th January 2011, with an official opening ceremony attended by Queensland Premier Anna Bligh taking place on 25th February 2011. It has capacity to cater for 124 students at any one time, and is closely connected with the local high-school through the MarineTech program, in order to help young students forge a career path into the maritime industry.
The contract to supply the new simulators for GBRIMC was won in a competitive tender against four other simulation suppliers. "We are proud to have been selected as the partner of choice in this highly competitive tender. Choosing Kongsberg Maritime, the new college joins a well-established simulation community in Australia. They will benefit from an environment in which they can share and benefit from each other's strengths, instructors, course material and students," explains Mark Stuart Treen, Sales and Marketing Manager, Kongsberg Maritime, Simulation Department.