An Autonomous Underwater Vehicle (AUV) manufactured by Hydroid, Inc., a subsidiary of Kongsberg Maritime, has discovered the wreckage of a helicopter that crashed in Svalbard, Norway in 2003. The helicopter's crew escaped alive, but the wreck had not been seen since it sank into Adventfjorden bay.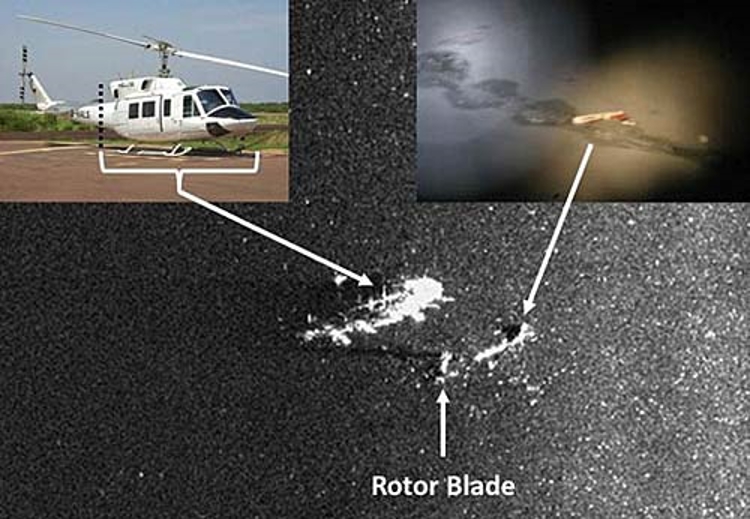 Mark Moline, a professor from California Polytechnic University who is currently a Fulbright Arctic Chair at the University Centre in Svalbard, had been using the REMUS 100 to research climate-related changes to the Adventfjorden's ocean floor. When he downloaded the images from an oceanographic survey this September, he discovered that the REMUS had photographed the missing helicopter wreckage.
"The wreck is located in shallow waters close to the North shore of the Adventfjorden, where bigger boats are unable to travel," Professor Moline said. "But one reason the REMUS is so useful in our research is its ability to navigate through difficult undersea terrain."
REMUS AUVs are renowned for maneuvering in and around unusual oceanographic features with greater ease, and at a lower cost than boats and other submersibles. Professor Moline currently has no formal plans to investigate the helicopter wreck further, but he may attempt to explore it again next summer. In addition to his ongoing oceanographic research, Professor Moline also now hopes to use the REMUS to locate a German plane that crashed in the Adventfjorden during World War II.
"This is the latest in a series of significant discoveries made using REMUS vehicles," said Christopher von Alt, President and co-founder of Hydroid. "Hydroid is proud to be part of important undersea explorations like this one. Time and again, the REMUS continues to perform well, in even the toughest situations."
Hydroid's REMUS AUVs are modular: They can be fitted with a large number of different sensors and have been used to aid in hydrographic surveys, harbor security operations, debris field mapping, scientific sampling and mapping, as well as many basic and applied research programs funded by ONR, DARPA and the United Kingdom Ministry of Defense. With over 200 vehicles in the field, Hydroid is currently the AUV market leader with systems in use by 13 navies around the world.