Customer demand and new regulations drive HMS 100 developments.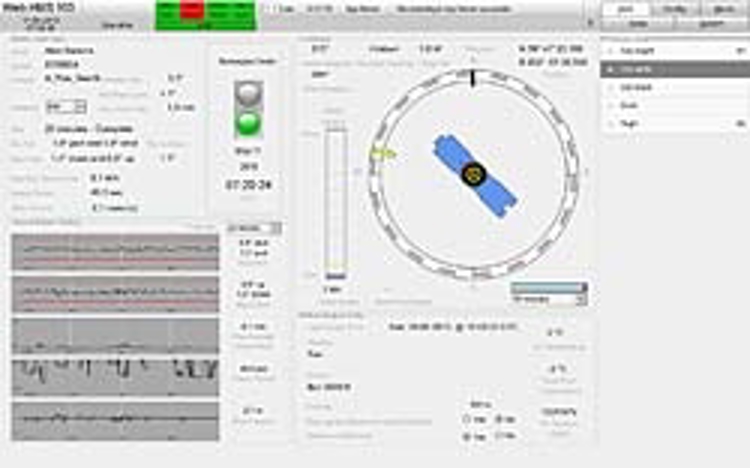 Kongsberg Maritime has launched a sophisticated new web service to provide users of its Helideck Monitoring Systems (HMS) with live data over the internet. The new Web HMS 100 service meets the demands of helicopter operators and pilots for advance data on helideck conditions before the flight embarks for the platform and addresses forthcoming new requirements of the Norwegian and UK Civil Aviation Authorities. The service will be available on a yearly subscription basis.
HMS 100 users can sign-up to the new Web HMS 100 service once they have applied an upgrade for HMS 100. Software version 3.2.1 released in October 2009 already enables the web service but a new software version 3.3.0, which is available in August 2010, in addition to enabling access to the online helideck monitoring data also meets other changes of the new harmonised helideck monitoring standards for Duty Holders of Mobile Installations & Vessels introduced by the Norwegian and UK CAAs, which were announced March 2010 and come into force November 2010.
The Web HMS 100 service has been developed to assist helicopter operators to plan flights to offshore platforms and vessels prior to take-off from the heliport. Once the service is activated on an HMS 100 installation, any key stakeholders, including the helicopter operator, the Joint Rescue Coordination Centre (only for service in North Sea, Norwegian sector) and the ship management company can view live data from the HMS 100 installation in a user-friendly text and/or graphical format. Users can gain access by logging-in from any web browser, where they will be presented with a list of vessels/platforms that they are authorised to receive data from.
"Although the new Web HMS 100 system introduces new operational capabilities as it can provide data to the helicopter land-base so operators are fully aware of conditions at the flight destination before it even leaves, it is also linked to the forthcoming regulations as the availability of the data can eliminate the need for a separate Rig Report to be submitted, which is a requirement under the new, incoming regulations," explains Vidar Bjørkedal, VP Sales & Customer Support Kongsberg Seatex.
The Kongsberg Seatex HMS 100 is a vital tool for measuring helideck motion during helicopter landing and take-off operations in order to improve both flight and passenger safety. It provides accurate data by monitoring the helideck's heave, heave velocity, roll and pitch in real-time but can also be integrated with a variety of other meteorological sensors including humidity, wind speed and direction, and barometric pressure, which will be a requirement of the new helideck standards as of November 2010.