New Differential Positioning System used during Bosporus Strait transit.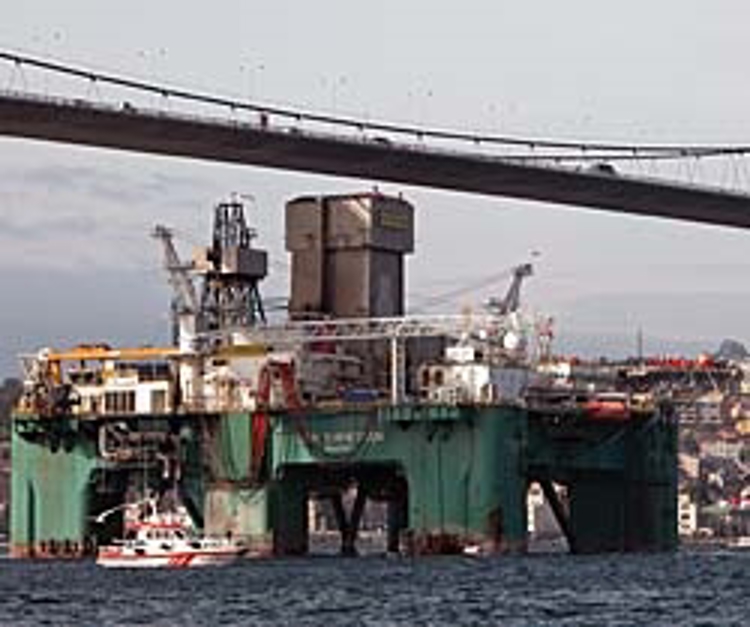 Ocean Rig's semi-submersible drilling rig Leiv Eiriksson has successfully navigated the Bosporus Strait using the sophisticated new DPS 4D Differential Positioning System developed by Kongsberg Maritime's specialist position reference and satellite positioning division, Kongsberg Seatex. Leiv Eiriksson is one of the first vessels to apply DPS 4D, which uses the latest advances in GPS/GLONASS technology, aided by inertial technology utilizing Kongsberg Seatex's new high performance Motion Reference Unit, MRU 5+, to optimise signal tracking, integrity and availability for Dynamic Positioning (DP) applications under challenging GNSS conditions.
Position data at all times
Ocean Rig reports that DPS 4D provided continuous, accurate position data during the transit of the Bosporus Strait, demonstrating integrity and availability of position data at all times.
"The Bosporus Strait is well recognised as being a hazardous area for navigation. Despite the bridges and other obstacles, which actually interrupted other satellite-based reference systems onboard, we were able to reference our position continuously, only because we had DPS 4D. The availability of position data helps to improve safety and efficiency of operations and I'm confident that DPS 4D will enhance future navigation and manoeuvring operations for Leiv Eiriksson," comments Stein Egil Svendsen, Marine Manager at Ocean Rig.
GPS / GLONASS and MRU 5+
KONGSBERG DPS 4D utilises all available satellite navigation signals by combining GPS / GLONASS and MRU 5+ into a single system. The MRU 5+ measurements effectively bridge gaps in the satellite signal caused by physical obstructions, ionosphere activity and shadowing from nearby objects which may reduce signal availability. RIM (Receiver Autonomous Integrity Monitoring) enhanced by data from MRU 5+ also provides an assessment of the reliability of position and velocity data under challenging GNSS conditions. DPS 4D is also designed to utilise all frequencies in systems available today as well as future GNSS signals and future global satellite navigation systems such as GALILEO.
Visual presentation is available
KONGSBERG DPS 4D has an intuitive and easy to use Human Machine Interface (HMI) developed in close co-operation with end-users. The primary goal of the HMI is to enable the operator to instantly identify and react safely to critical situations. Operators need to assess the quality of their position quickly and effectively so user-defined visual presentation using multiple layers of information is available.
Decimetre accuracy
The KONGSBERG DPS product line is well-proven and in use by professional marine and offshore users worldwide. Kongsberg Seatex has years of position reference experience and adds the DPS 4D to its existing top level DPS range comprising DPS 132, DPS 232 and DPS 700. These solutions offer robust signal availability and integrity, decimetre level position accuracy, MRU integration (DPS 4D), application tailored HMI, extended DP operation functionality and extended interfacing capabilities.