Kongsberg Maritime has supplied an MS1000 high resolution sonar system to UMC International (UK) for a unique project located in the Singapore River.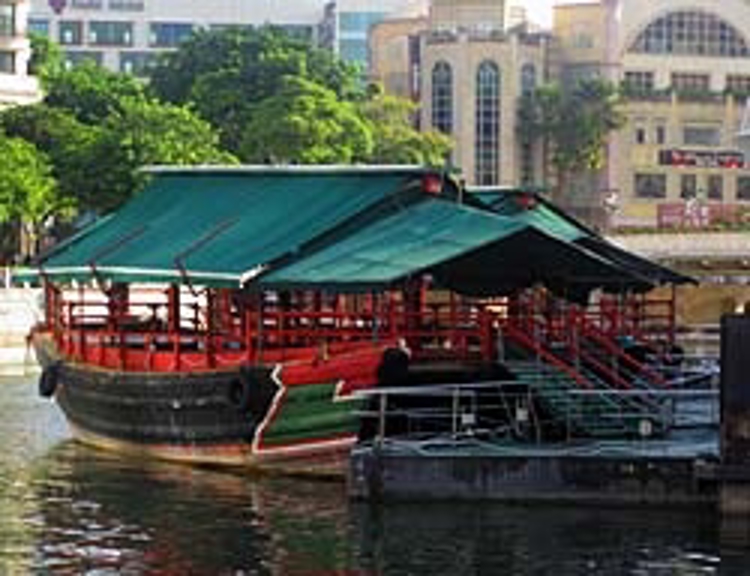 UMC, a global specialist in waterborne repair and maintenance, was tasked with the project of servicing and repairing two Tongkangs (Traditional Malay Wooden vessels), used as floating restaurants on Singapore's famous central river. Each vessel weighed over 80 tonnes and had to be lifted completely from the water for inspection and restoration of the hull to begin.
In order to plan for this challenging restoration project, the team of UMC engineers required a considerable amount of vital information which was initially unavailable comprising:
River water levels
Profile of the river bed
Shape of the Tongkangs Hull below water level
Minimum keel clearances
Kongsberg Maritime's MS1000 high resolution sonar system was chosen to collect the information needed, as due to the zero visibility conditions underwater and confined spaces beneath the vessels, the traditional use of divers was deemed too dangerous.
The system was initially operated in profiling mode to gain cross sectional profiles of both the river bed and also the Tongkang hull. The MS1000 was then used in imaging mode to scan the riverbed to check for any obstructions that could impair the lift of the hull. The scan was completed in six hours working time with data processed the very same evening, providing extensive information to the UMC specialist engineering department ready to be used in the development of the project plan.

Commenting on the MS1000 system, UMC International Engineering Director, David Richards said, "I am very impressed with the technology, in particular how user friendly both the hardware and software are, compiling a composite picture of the river bed and vessel hull was achieved easily and quickly, and I can see many more applications for future use."
Founded in 1972, UMC International (UK) and its wholly owned subsidiary MUM's (Maritime Maintenance – Singapore) offers a global network of services specialising in waterborne repair and maintenance technology. Alongside these services, the company also design bespoke systems to meet new unique challenges via its specialist team of engineer's naval architects including cofferdams, blanks and lifting systems.