Sophisticated systems for oceanographic research in the Alaska Region.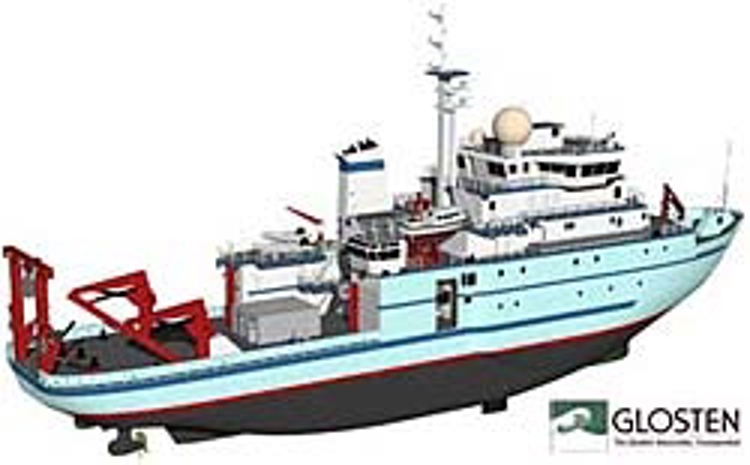 Kongsberg Maritime will supply a sophisticated suite of acoustic systems, including multibeam and scientific echosounders for the Alaska Region Research Vessel (ARRV), R/V Sikuliaq, which has been commissioned by the owner, the National Science Foundation and will be operated by the University of Alaska, Fairbanks.
Kongsberg Maritime's specialist US company, Kongsberg Underwater Technology, Inc. has been chosen as the scientific sonar systems integrator for the ship. R/V Sikuliaq will have an impressive array of sonar equipment including several Kongsberg Maritime manufactured systems such as the EM 302 deep water multibeam echo sounder, EM 710 shallow water multibeam echo sounder, TOPAS PS 18 parametric sub-bottom profiler and the EK 60 scientific echo sounder. In addition, the new Kongsberg Seatex Seapath 320+ will be supplied as a vessel attitude, heading and position reference for the scientific sonar suite.
The R/V Sikuliaq is currently under contract for detailed design and construction at the Marinette Marine Corporation in Marinette Wisconsin, and will be home ported at the UAF Seward Marine Center. It is the culmination of plans that arose in 1980 from the U.S. scientific community's recognition of the need for a highly capable research ship for operations in the coastal and open ocean waters of the Alaska region. 30 years later, the vision will become a reality, with Kongsberg Maritime on Board.
"The new vessel will open up the ice-choked waters of the Alaska region to scientists from all over the world," said Terry Whitledge, director of the Institute of Marine Science at the UAF School of Fisheries and Ocean Sciences and the project leader. "As the first vessel in the UNOLS fleet with significant research capability in seasonally ice-covered waters, scientists on board the ARRV will be able to investigate a variety of ecosystem issues, including the response of Alaska's fisheries to climate change."
R/V Sikuliaq will be 254 feet (77.4 m) long and capable of breaking through 2.5 feet of ice at a speed of 2 knots, and will be able to accommodate a total of 26 scientists for up to 45 days at sea. It is designed and built to American Bureau of Shipping polar class 5 (PC 5) standards, which will allow the ship and its crew to work safely for longer periods of time in a wide variety of Arctic waters. When completed it will be one of the most technologically advanced research ships in the world enabling a wide variety of oceanographic research to be conducted and then transmitted to virtually any academic institution on the planet.