Kongsberg Maritime systems chosen for another advanced specialist vessel.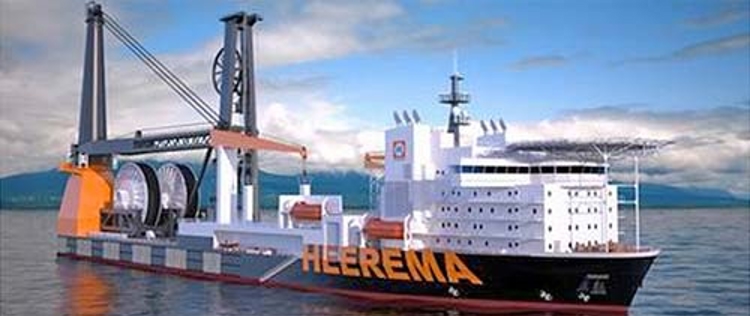 Kongsberg Maritime Korea has been awarded a contract to supply an Integrated Control System for a sophisticated new Heerema Marine Contractors owned monohull pipe lay vessel, under construction at Daewoo Shipbuilding and Marine Engineering Co., Ltd., Korea (DSME).
The Full Picture
The 210m specialist Deep Water Construction Vessel, which is scheduled for completion of all tests & trials by mid-2013 will benefit from Kongsberg Maritime's proven integrated automation and manoeuvring systems. The complete package of sector leading technology includes: K-Pos DP-3 System, K-Thrust Thruster Control, K-Chief 700 Integrated Automation System, HiPAP Hydro Acoustic Positioning System and GNSS reference system.
With an investment of US$600-700 million, the new vessel will boost Heerema Marine Contractors already significant capability to execute complex deep water infrastructure and pipe line projects in ultra deep water and also, with sufficient lifting capacity, enhance the company's ability to execute installation of fixed platforms in relatively shallow water.
Greater degree of redundancy
The Kongsberg Maritime K-Pos DP-3 System (DP-32), combined with high quality position reference from HiPAP and GNSS will ensure pinpoint positioning during these highly complex operations. The K-Pos DP-3 satisfies the requirements of IMO Equipment Class 2 and Equipment Class 3 DP systems. It comprises a triple-redundant DP system controller unit and three identical operator stations and is designed for integration with K-Chief (marine automation system) and K-Thrust (thruster control system) via a dual Ethernet LAN.
Integrating all functions for monitoring and control of a vessel provides tangible benefits both technically and economically. Functions are integrated to reduce the overall need for hardware and software and to reduce interfacing requirements, which leads to less demand for specialist software development, cabling and testing. Furthermore, integrated systems offer a far greater degree of redundancy, and therefore increased system availability and operational performance is possible.
Kongsberg Maritime in Korea
The majority of vessels leaving Korean yards do so with Kongsberg Maritime systems onboard. These include a large number of LNG vessels in addition to specialist vessels like the forthcoming monohull pipe lay vessel for Heerema Marine Contractors. Kongsberg Maritime Korea is responsible for the delivery and installation of the Integrated Control System aboard the vessel. This wholly owned subsidiary of leading marine technology company Kongsberg Maritime is headquartered in Jungkwan, northeast of Busan, South Korea and has branch offices in Geoje, Ulsan and Mokpo on the west coast.