Two cutting-edge systems from opposite ends of the spectrum collide at ONS 2010.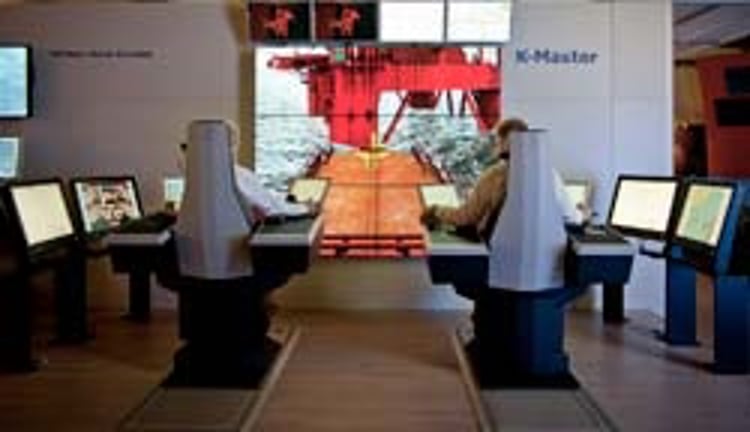 Kongsberg Maritime demonstrated the safety and efficiency benefits of its K-Master aft bridge workstation for complex offshore operations including anchor handling with the latest version of its Offshore Vessel Simulator fully integrated during ONS 2010.
The system on show at ONS 2010 demonstrates a complete anchor handling vessel aft bridge, arranged in compliance with the DNV NAUT-OSV class notation. With one workstation for ship handling and one for aft support/winch operation, two operators can experience the challenges of cooperation in a demanding operational scenario - a scenario generated, controlled and visualized by the KONGSBERG Offshore Vessel Simulator.
"With K-Master and the new Offshore Vessel Simulator, we cover all aspects of offshore aft bridge simulation, which provides a unique insight into how the K-Master system significantly improves safety and efficiency of offshore operations," comments Søren Einar Veierland, Business Manager, Kongsberg Maritime - Simulation & Training Department. "We can provide high quality simulation for anchor handling and winch control, dynamic positioning with K-Pos, power management, in addition to navigation and forthcoming K-Master functionalities such as cargo transfer and ballast control."
K-Master, which was introduced to the market at Nor-Shipping in June 2009 can include a wide variety of sub-systems for offshore operations, including Dynamic Positioning, independent DP joystick, thruster control, machinery automation and cargo control, chart radar and conning display, and bridge auxiliaries. The sheer breadth of functionality at the finger-tips of the operator is astounding, and its design ensures that each and every sub-system can be operated safely and efficiently.
Due to escalating costs, many possible risks and difficult access to offshore marine assets for 'live' training with real equipment in real environments, simulation under realistic circumstances is a safer and more cost-efficient training solution. The KONGSBERG Offshore Vessel Simulator was developed to meet the significant need for personnel training in the offshore sector today. Simulation for training, procedures, mission planning, decision support and crises and accidents represent the needs of the industry and are therefore integrated parts of the simulator.
"Separately, K-Master and the Offshore Vessel Simulator represent the cutting-edge in operational and training technology," continues Veierland. "When the systems are integrated, they offer the most realistic simulator training for offshore operations available today, therefore supporting the industry's requirements for better trained, more competent and safety focused manpower."