'Full Picture' delivery integrates hydroacoustic, research, navigation and manoeuvering.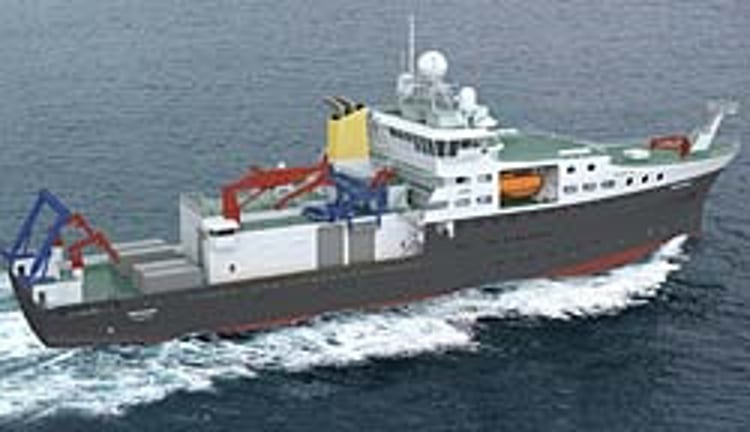 Kongsberg Maritime has signed a contract with Freire Shipyard for the supply of a comprehensive integrated systems package to be installed aboard an advanced research vessel currently under construction at the Spanish shipbuilders Vigo yard for the Natural Environment Research Council (NERC).
The new vessel is being built as a high technology replacement for NERC's RRS Discovery, which has been in service since the early 1960s. The new 100m vessel, also called RRS Discovery has been designed by Skipsteknisk AS in Norway and is due for completion summer 2013, at a total project cost of £75 million. Within the scientific community, the new RRS Discovery is seen as state-of-the-art in terms of design and functionality.
A suite of cutting-edge hydroacoustic instruments accounts for approx. 80% of the Kongsberg Maritime systems destined for the new RRS Discovery. In close co-operation with NERC, high levels of integration have been developed across the entire package, which includes:
Hydrography – Deepwater Multibeam EM122 (1ºx1º), medium water wideband Multibeam EM710 (2ºx2º), single-beam EA600 and for geophysics applications, sub-bottom profiler SBP120
Fishery Research – Simrad EK60 scientific multi-frequency echosounder
Integration – K-Sync synchronizing unit
Navigation – K- Bridge Integrated Bridge System
Dynamic Positioning – K-Pos and C-Joy with DP1 (AM)
Video – Marine CCTV system
"Kongsberg Maritime will become more than a systems supplier for RRS Discovery as we will work closely with the shipyard and NERC during the entire project," comments Vicente Carrasco, Director Comercial Hidrografia, Subsea Dept , Simrad Spain SL. "We are providing a dedicated Project Management service and the combined NERC and Kongsberg Maritime development of the systems for RRS Discovery is an exciting prospect for the entire team."
Kongsberg Maritime has also supplied hydrography systems to another research vessel in production at Freire Shipyard, for owner Qatar University. Kongsberg Maritime is a highly regarded supplier of integrated systems to technologically advanced research vessels. Projects include extensive system packages for NERC's RRS James Cook, the T-AGS 60 class survey vessels operated by the US Naval Oceanographic Office (NAVOCEANO), and in 2010 the National Science Foundation's Alaska Region Research Vessel (ARRV), R/V Sikuliaq and the US Coast Guard's high latitude research dedicated icebreaker, Healy.
"We have provided systems to many of the most advanced research vessels, and in conjunction with technically oriented organisations like NERC, we have developed a wealth of knowledge on research systems and integration," says Peter Bennett, Sales Manager Hydrography "By drawing on this extensive experience from previous projects and by working in partnership with NERC, the RRS Discovery".