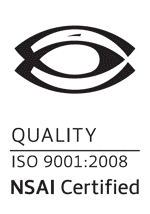 Hydroid, Inc. a KONGSGERG Company announced today that they have recently received the Certificate of Registration of Quality Management System to I.S. EN ISO 9001:2008. The company has been assessed and deemed to comply with the provisions of the above standard in respect of scope of operations for the design, manufacture, sales and service of autonomous underwater vehicles. Christopher von Alt, President of Hydroid, stated "This is an important step for Hydroid, which we could not have taken without the energy and commitment of each employee as the designation encompasses every department and was achieved with the first audit. The ISO 9001 standard provides a number of requirements which an organization needs to fulfil in order to achieve customer satisfaction through consistent products and services which meet customer expectations. Hydroid's goal is to exceed our customers' expectations and this is a major step in that direction."
ISO 9001: 2008 is one of a group of the ISO 9000 quality management systems standards maintained by ISO, the International Organization for Standardization. This organization, composed of the national standards institutes of 161 countries, is the world's largest developer and publisher of international standards. The standards are administered by accreditation and certification bodies worldwide and are updated as requirements change over time.
A company receives ISO 9001:2008 "Registered Firm" status once an independent accreditation company has audited the management system of the applicant company, certifies that it conforms to the requirements specified in the standard, and then registers that certification in its client register. Hydroid's Quality Management System is compliant to ISO 9001:2008, and includes:
A set of procedures that cover all key processes in the business
Monitoring processes to ensure they are effective
Keeping adequate records
Checking output for defects, with appropriate and corrective action where necessary
Regularly reviewing individual processes and the quality system itself for effectiveness
Facilitating continual improvement
Hydroid's Quality Policy is also ISO compliant
Hydroid, Inc. is a profitable, customer-centered, engineering-based manufacturing company. Hydroid is committed to providing high quality autonomous underwater vehicle technology and instrumentation products for the purposes of advancing and saving human lives.
Hydroid strives to produce quality products and services that meet and exceed customer's expectations and continues to develop new products and services. Hydroid takes available opportunities to improve our performance on an ongoing basis. We are committed to maintaining a working environment that promotes continuous quality improvement through employee growth and satisfaction. We will establish quality objectives for the company and will continually improve the effectiveness of the quality system in order to achieve those objectives.
Hydroid chose NSAI (National Standards Authority of Ireland), located in nearby New Hampshire, as their registrar. After a week-long audit of the entire Quality Management System, Hydroid was recommended for registration to ISO 9001:2008 by the auditor. There were no findings/problems at this audit. The recommendation for registration was approved by NSAI and Hydroid received a certificate of registration on April 15, 2009.
After the recent second audit, Hydroid's Quality Assurance Manager Gillian Kutcher announced, "Our recent ISO surveillance audit was very successful. The auditor had no findings/problems and he was very impressed with the professionalism and knowledge of the people he interviewed."
For further information contact Kevin McCarthy, Vice President of Marketing at Hydroid at: