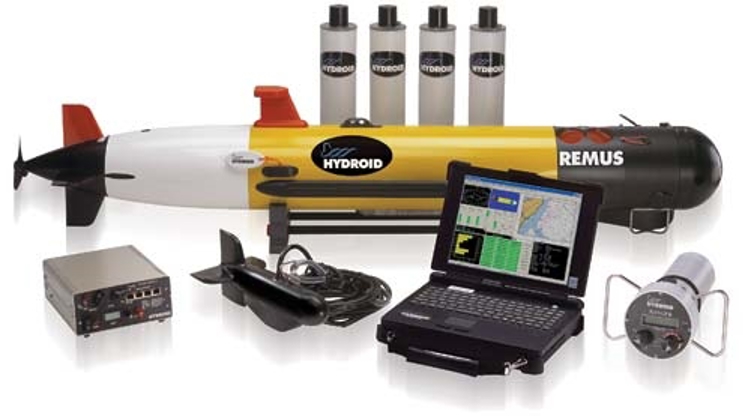 Hydroid, Inc, a leading manufacturer of Autonomous Underwater Vehicles (AUVs) and part of the Kongsberg Maritime Subsea Group, has supplied a REMUS 100 system to the Italian Navy. The order for the REMUS 100 AUV system was awarded following an international solicitation by the ITN and is part of the growing mine countermeasures (MCM) capability of the Italian Navy.
The REMUS 100 system, built in Pocasset, MA, was delivered and accepted into service by the Italian Navy in December 2009, and is configured with a sensor suite specifically intended to meet the Italian Navy's requirements for a "Light AUV" for MCM activities.
The REMUS 100 was selected as a result of an international tender for providing ITN with a light AUV that could extend MCM operations beyond the capabilities of dedicated naval vessels. The acquired REMUS 100 system will be used for test and evaluation purposes.
"Hydroid was excited that the Italian Navy selected Hydroid's REMUS 100 AUV for their "Light AUV" requirement to support its MCM operations," stated Graham Lester, Director of Hydroid Europe. "This contract demonstrates Hydroid's REMUS continued acceptance as the tool of choice in Military AUV applications, and confirms the rising trend to utilize AUVs as a vital part of advanced mine countermeasure missions."
Hydroid's REMUS AUVs can be fitted with a number of different types of sonars, sensors and cameras and have been used to aid in hydrographic surveys, harbor security operations, debris field mapping and scientific sampling and mapping. With over 200 vehicles supplied, Hydroid's AUVs are currently being used by thirteen NATO and other international navies around the world.
Hydroid Inc. holds the exclusive license from the Woods Hole Oceanographic Institution for the manufacture and further development of the REMUS Autonomous Underwater Vehicle (AUV) technology. In June 2008, Hydroid was acquired by Kongsberg Maritime, and now offers the REMUS and HUGIN family of autonomous vehicles that meet a full range of autonomous needs.
For further information contact Kevin McCarthy, Vice President of Marketing at Hydroid at: