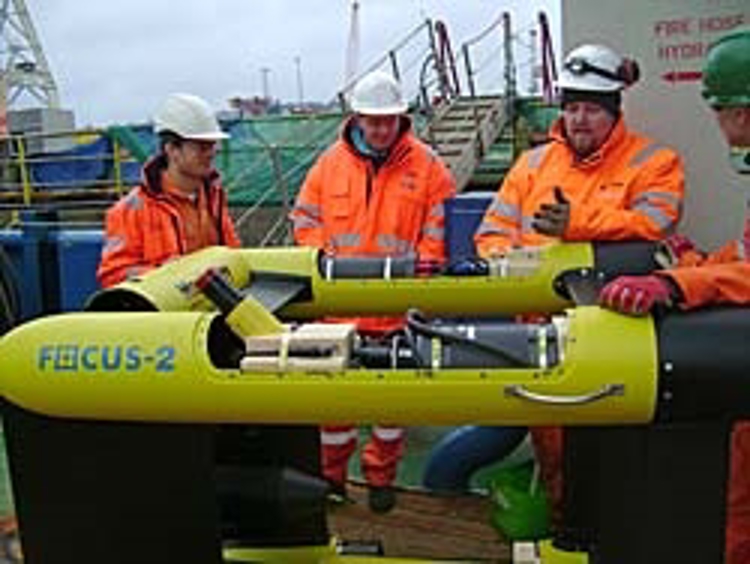 DOF Subsea Norway has installed the first Kongsberg Maritime Hydroacoustic Aided Inertial Navigation (HAIN) subsea system on a MacArtney Focus 2 ROTV (Remotely Operated Towed Vehicle).
The system was installed in Stavanger on the vessel Geosund in preparation for pipeline inspection work for the Danish sector of Maersk. Geosund already has a HAIN subsea installed on its Remotely Operated Vehicle (ROV). This is integrated into the survey Eiva Navipak system along with the Edgetech sidescan on the ROTV.
About HAIN
Kongsberg Maritime's HAIN subsea system is ideal for use on ROVs, other underwater cable-connected units and AUVs. The Acoustic and Inertial positioning principles have complementary qualities. While the acoustic positioning is characterised by relatively high and evenly distributed noise and no drift in the position, the inertial positioning has very low short-term noise and relatively large drift in the position over time. The HAIN Subsea solution provides acoustic position accuracy and higher position update rate.
About DOF Subsea
The DOF Subsea Group is a specialist subsea service business that provides survey, construction, inspection, repair and maintenance services which involve complex engineering world wide. The company owns a large fleet of modern subsea construction, intervention and survey vessels and their core businesses are project management, engineering, vessel operation, survey, remote intervention and diving operations primarily for the oil and gas sector on a worldwide basis.