Upgrade for high latitude research dedicated Coast Guard icebreaker.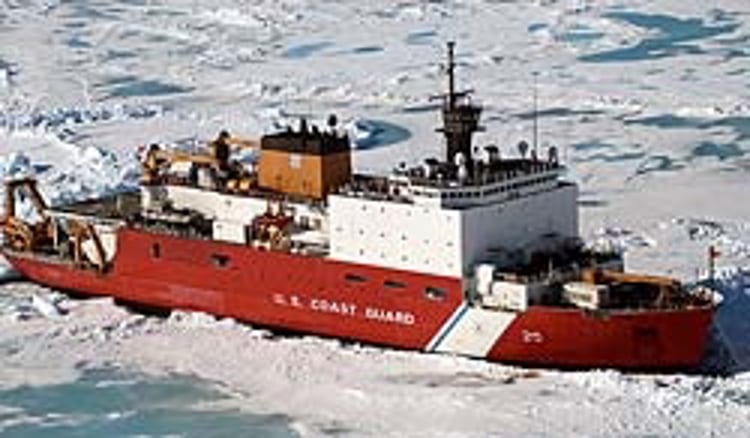 The United States Coast Guard has ordered a Kongsberg Maritime EM 122 deep water multibeam echo sounder for use aboard Healy, the largest icebreaker in its fleet. Although a Coast Guard Cutter, Healy is specifically designed for high latitude research operations in the fields of marine geology, physical and biological oceanography and meteorology. Healy is supported by scientists from various universities and institutes, so requires high-end hydroacoustic solutions, such as the EM 122.
At a time when interest in the Arctic Ocean basin is intensifying, the new EM 122 will substantially enhance Healy's ocean mapping capabilities. The scientists embarked on Healy are involved in a wide variety of research and several of its most recent voyages have involved hydrographic work related to determining the limits of the Extended Continental Shelf (ECS) of the United States. If the United States can prove that its continental shelf extends beyond the Exclusive Economic Zone, then under the United Nations convention on the Law of the Sea, the U.S. will have economic rights to the additional area.
The only deep water system that met all of the criteria
The EM 122 was selected by a third party consulting company that was contracted by the US Coast Guard to perform a detailed evaluation of currently available deep water multibeam echo sounders. The evaluation was based on several criteria that were deemed critical requirements for the new system and its application aboard Healy. After evaluating the multibeam products of various manufacturers the consulting company came to the conclusion that the Kongsberg Maritime EM 122 was the only deep water system that met all of the criteria.
Unsurpassed resolution, coverage and accuracy
Designed to perform seabed mapping to full ocean depth, the cost-effective, reliable and easy to operate EM 122 provides unsurpassed resolution, coverage and accuracy. The EM 122 offers accuracy of better than 0.2% of depth in deep waters and has up to four times the resolution of the KONGSBERG EM 120 in terms of sounding density, because of its multi-ping capability and ability to perform over twice the number of detections per swath.
Healy, which is named after Captain Michael A. Healy, a famous US Revenue Service commanding officer at the end of the 19th century, is currently in dry dock in Seattle, WA to install the EM 122 and to perform other maintenance and upgrades, which are expected to be completed by the spring of 2010. The 420-foot ship is capable of breaking through ice that is five feet thick at a speed of three knots. Healy is outfitted for extended deployment and has berthing for 76 crewmembers and up to 50 scientists.
Kongsberg Underwater Technology, Inc. in Lynnwood, WA is providing the EM 122 and extensive engineering support as part of the ship's upgrade.