Cruise Control from Kongsberg Maritime aboard world's largest cruise vessel.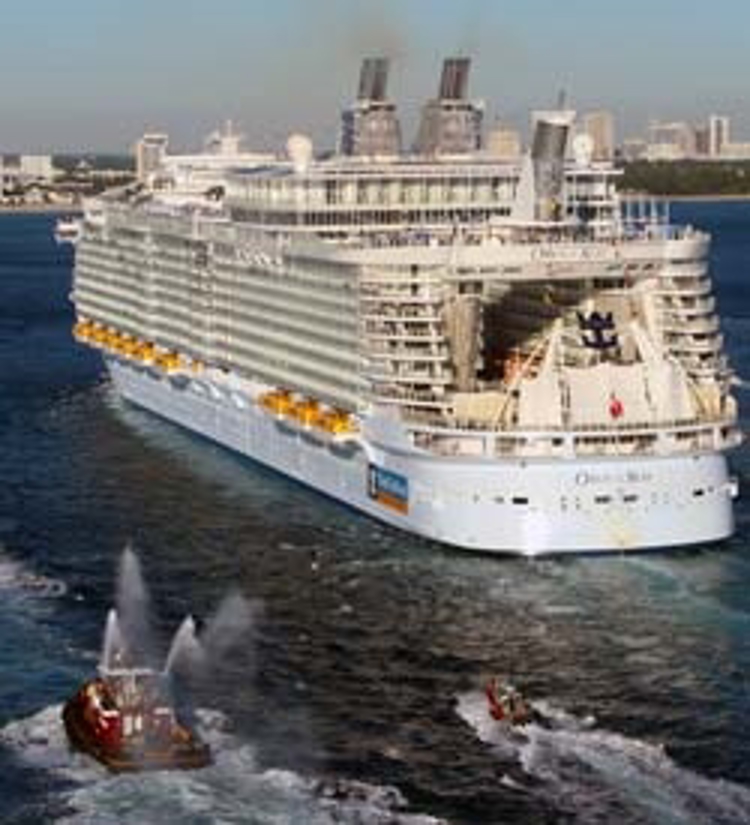 Royal Caribbean International's (RCI) groundbreaking mega cruise vessel - Oasis of the Seas - enters 2010 with critical navigation, maneuvering and automation functions under the proven and trusted command of Kongsberg Maritime control systems. The extensive design and installation project, which is a realisation of Kongsberg Maritime's The Full Picture ethos was undertaken in close collaboration with RCI at the STX yard in Turku, Finland.
Complete Cruise Control
Complete Cruise Control is the driving concept behind the Kongsberg Maritime installation aboard the world's largest cruise vessel, which at its heart features a complex bridge control system. With six Wartsila diesel electric engines delivering close to 100MW of power to four large 5MW bow thrusters and three 20MW podded azimuth propulsion systems supplied by ABB Marine, Oasis has a unique and powerful propulsion system. The challenge of controlling all of that power from the bridge, in order to safely and efficiently move the 65 meters tall, 360 meters long, 47 meters wide, 225,282 GRT Oasis fell to Kongsberg Maritime, when it was contracted to supply the propulsion control system and dynamic positioning (DP2), in addition to power management, machinery automation and HVAC automation systems.
With such a complex scope of supply, it was vital that Kongsberg Maritime's designers and engineers worked closely with RCI, throughout every stage of the project. "Over the past decade, shipyards have embraced an outsourcing production model. In addition, the increased size and complexity of the vessels we build demands close cooperation, so we tend to work with companies such as Kongsberg Maritime who share our values and business culture," said Anders Aasen, RCI's Associate Vice President, Marine Technical Services.
The right bridge control system
Captain Bill Wright, Senior Vice President of RCI, and Captain of Oasis of the Seas believes that many different components came together to make the system meet RCI's requirements for such a large vessel: "Oasis has about 15,000 square meters of sail area, so manoeuvring the vessel in and out of small or busy ports in challenging wind and sea conditions requires a powerful and dynamic propulsion control system. We worked closely with Kongsberg Maritime to ensure we got the right bridge control system and functionalities in the software solution to match our needs."
Captain Wright's influence also extended to fine tuning the KONGSBERG DP system by suggesting some software refinements to ensure the redundant DP system was optimised for the Oasis. "There were some functions we didn't need and others we wanted, and with KONGSBERG's help, we ended up with a system which meets our requirements. In fact, there are elements to the DP system aboard the Oasis which I am confident would be of interest to the offshore industry."
More simultaneous information
According to Rolf Taxt, Kongsberg Maritime's Project Manager (Integrated Control Systems), the company places a high value on the input delivered by RCI personnel. "Oasis is among the largest, most challenging projects we've ever worked on, and it is a credit to RCI's personnel and the yard that everything has gone smoothly. In addition to customising the DP software and bridge control systems, RCI wanted wide-screen monitors, which allows us to make available more information on screen for bridge officers. Following this, we are now able to offer the same widescreen solution to other customers."
The collaboration between Kongsberg Maritime and RCI continues apace as Oasis of the Seas enters 2010; with the installation of a similar Cruise Control system aboard her sister ship, Allure of the Seas, which is due to sail in November 2010 after completion at the STX yard in Turku.