Hydroid Inc. a Kongsberg Company announces that they have recently received an order from the Woods Hole Oceanographic Institution for a REMUS 100 system that will be used for scientific operations in the Arctic in both ice-free and ice-covered zones.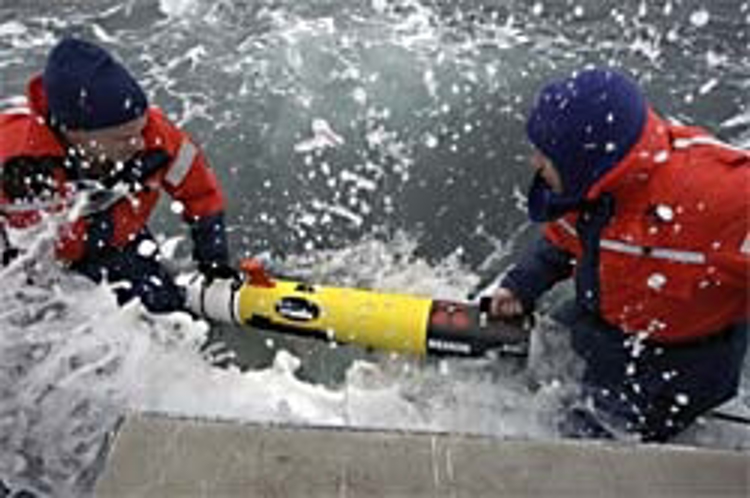 Commenting on the recent contract award Dr. Al Plueddemann stated that "Many important processes take place beneath the Arctic ice cover in winter and are very difficult to observe using traditional shipboard sampling techniques. Small AUVs hold great promise for under-ice exploration, but communication and navigation are difficult because the vehicle cannot surface to get a GPS fix, or use satellite or radio communications to report status or receive new commands."
Lee Freitag, a senior engineer at Woods Hole Oceanographic Institution - WHOI involved in the project, continued, saying "this new under-ice REMUS vehicle is being modified to use lower frequency acoustic communication and navigation signals for longer range because low frequency sounds travel further in the ocean. Longer range allows sampling larger areas without having to recover the vehicle through a hole in the ice and repositioning it and the communications and navigation beacons. The estimated range of the new system is on the order of 10 kilometers, which allows a survey area up to 300 square kilometers.
WHOI presently has several REMUS systems in various departments of the Institution involved in a range of oceanographic projects. The technology continues to be advanced by the Oceanographic Systems Laboratory at WHOI and others within the WHOI Applied Ocean Physics and Engineering Department, and by Hydroid Inc.
Kevin McCarthy, Vice President of Marketing at Hydroid commented that "Hydroid continues to work very closely with the Woods Hole Oceanographic Institution as the capabilities of the REMUS technology advance and are more widely accepted in the scientific community. This latest integration of low frequency acoustics will broaden the range of academic, commercial, and military applications for the REMUS 100 system."
Hydroid Inc. holds the exclusive license from the Woods Hole Oceanographic Institution for the manufacture and further development of the REMUS Autonomous Underwater Vehicle (AUV) technology. In June 2008, Hydroid was acquired by Kongsberg Maritime, and now offers the REMUS and HUGIN family of autonomous vehicles that meet a full range of autonomous needs.