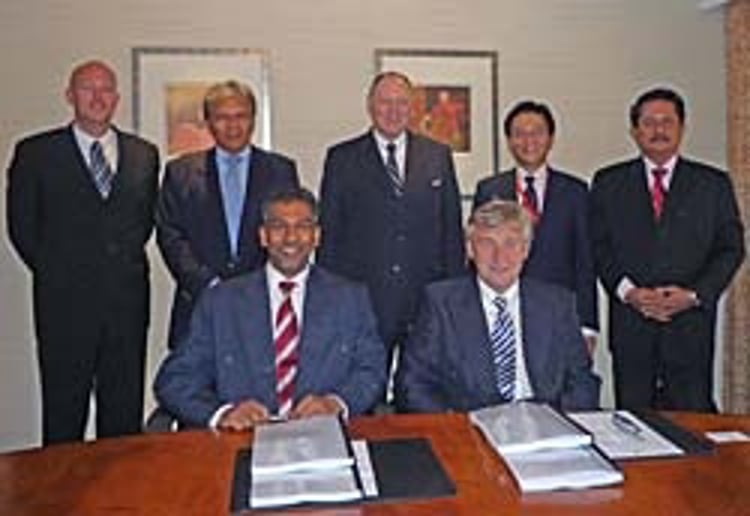 Key contract awarded
Kongsberg Maritime has been awarded a contract by HJS Maritime SDN. BHD, Malaysia to deliver two sophisticated Polaris Ship's Bridge Simulators for use in a new centre of excellence being built for the Malaysian Marine Department. This key contract follows the recent installation of the world's largest 360° marine navigation simulator at the the Maritime Academy of Asia and the Pacific (MAAP), Philippines and reflects Kongsberg Maritime's leading marine simulation position in Asia.
The contract win is a result of a competitive tender involving ten Malaysian companies and five major international simulator suppliers. Captain Dato Ahmad Othman, Director General, Malaysian Marine Department, elaborates: "Kongsberg Maritime has very good worldwide references and was awarded the contract based on the technical proposal, where they scored the highest. Local company HJS Maritime SDN. BHD is the main supplier for the delivery whilst Kongsberg Maritime in cooperation with their local sales representative, Kelana Stabil (M) SDN. BHD., are a major sub-contractor."
Bringing together key players in the world of marine simulation
The scope of supply comprises two full mission Polaris simulators, with integrated GMDSS and a tailor-made training package with different simulation exercises, designed by a team comprising Willem Barentsz Maritiem Instituut (Netherlands), Lantec Marine Inc. (Canada) and Pelorus Intelligence & Technology Academy (Malaysia). Additionally, Kongsberg Maritime has contributed its decades of marine simulation experience to support the building of a brand new building for the Malaysian Marine Department, which is specially designed to house the Polaris simulators and other rooms dedicated to improving the marine training capabilities in Malaysia.
The pre-delivery training of six of the Malaysian Marine Department's instructors will be conducted at the Willem Barentsz Maritiem Instituut before the final installation of the simulators in June 2010. "This project brings together several key players in the world of marine simulation," continues Captain Dato Ahmad Othman. "Through Kongsberg Maritime we will be able to supply high quality simulation training in addition to having access to the research and development work at a number of key marine training organisations around the world, which will enable us to ensure our course offering is of the highest standards."
Expansion of simulator activity in important market
"Our Asian simulator activity continues to expand and we see even more potential in this important market. With a simulator range from simple, user-friendly desktop simulators to advanced full mission simulators, we are able to provide internationally proven solutions that are adaptable for every customer's needs," adds Erik Hovland, Deputy Sales and Marketing Manager, Kongsberg Maritime, Simulation and Training Department.