Navigation, control and manoeuvring functions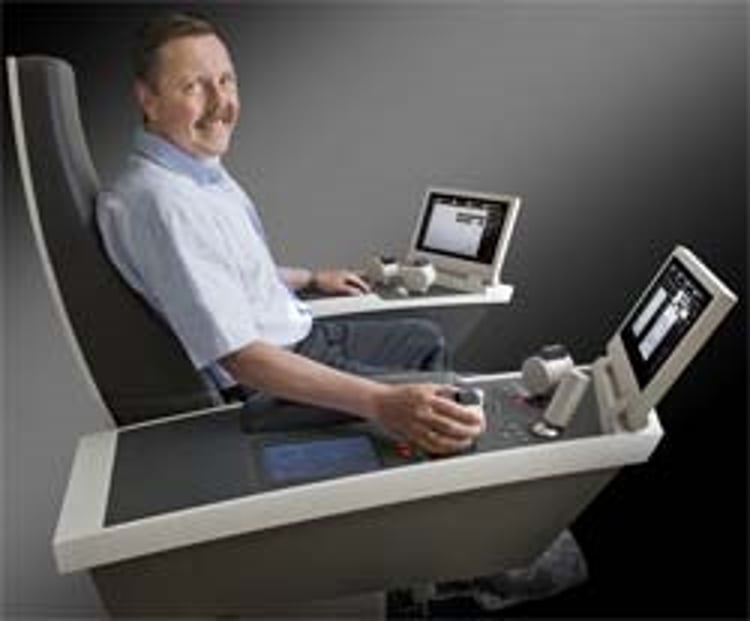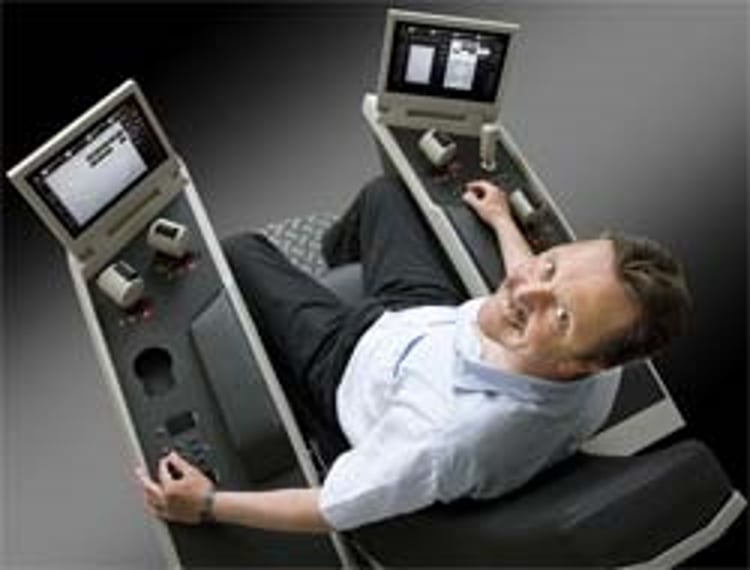 An exciting new integrated aft bridge workstation, which in an industry first combines navigation, control and manoeuvring functions in one sophisticated solution takes centre stage on the Kongsberg Maritime stand at Nor-Shipping 2009. The innovative K-Master provides access to all major control systems through a unique, ergonomic design that significantly improves the safety and efficiency of manoeuvring operations, especially for Offshore Support Vessels (OSV).
Improved safety and efficiency
"Aft bridge operators are drowning in the amount of activity and flow of navigational and ship systems information. K-Master drastically simplifies the processes while providing secure, optimal bridge awareness for improved safety, and professional, efficient OSV operation," comments Thor Hukkelås, Chief Engineer and project head for the K-Master workstation.
Independent operating station
K-Master is a complete and independent operating station designed to meet strict aft bridge ergonomic considerations regarding the arrangement of working environment, instrumentation and the operability of the equipment itself. Within easy reach of the operator, the K-Master workstation includes interactive interfaces for: Dynamic Positioning (DP), independent DP joystick, manual thrust control, alarm and monitoring/vessel automation, central bridge alarm system, chart radar, conning display and communication devices.
The true integration between the subsystems also makes it possible to provide functions across the subsystem boundaries, for instance, for system wide mode control tailored to the vessel's different types of operation, accessible through a condition based user interface. Similar concepts can be used for presentation and/or operation of auxiliary equipment, such as deck lights, window wipers, navigation lights or search lights.
Total ship operation
"K-Master consolidates the traditional five or six meter bridge console into literally one operator's chair, which houses integrated multiple computer consoles in the arm rests and touch-screens with split-screen interfaces. Total ship operation takes place from this chair, with the main information displays close to the seated operator, making the intense nature of ship operation on the aft bridge a more comfortable and less stressful situation," adds Hukkelås.
Ergonomic design
The compact K-Master design provides significant potential for efficient and cost saving installation. K-Master delivers many safety and efficiency enhancing improvements, including the ergonomic design, new thrusters levers and indicators as well as new button panels, joystick and tracker ball/pointing device.
"The use of mechanical switches in bridge applications is in decline and touch control technology is replacing them, except for critical operations. The interface concept of combining information displays and user interaction touch panels enables operators to perform key operations on one screen, while viewing pertinent information on the other," concludes Hukkelås.
The established Kongsberg Maritime K-Bridge already provides a total solution for the forward bridge, compliant with rules and regulations for nautical safety. By introducing the new K-Master generation workstations for the aft bridge, Kongsberg Maritime now offers a complete and holistic solution for the whole bridge, in addition to fully integrated automation and control solutions, as part of its Full Picture delivery concept.