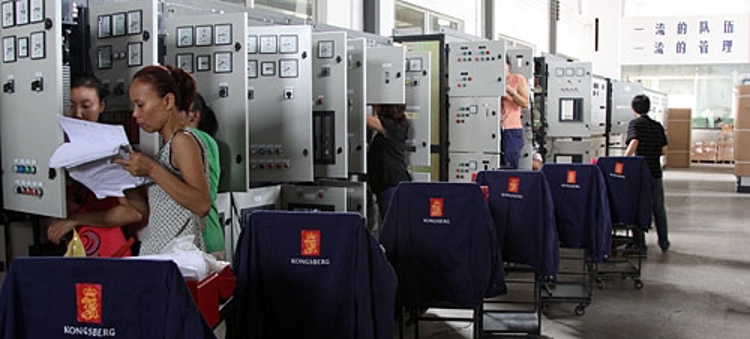 The shipyard will build 6 bulk carriers for two European ship owners, with the first delivery scheduled for completion by 20 November this year.
"This is a great challenge for us", said Deputy General Manager of KMCZ, Dagfinn Muller. "KMCZ takes care of the complete switchboard production process. This includes steel plate processing, mechanical production, painting and assembly of materials into finished products. With such a short deadline, the manufacturing of parts for main switchboard frameworks is urgent in order to start the other processes involved", Muller added.
Complete packages
KMCZ was established in 2008 as a joint venture between Kongsberg Maritime and the Chinese company Zhenjiang Marine Electrical Appliances. KMCZ has greatly expanded Kongsberg Maritime's supply potential, and the company can now offer a range of electrical equipment for commercial and engineering vessels. Equipment such as low-voltage switchboards, starter cabinets and transformers, integrated to Kongsberg Maritime's present automation and control solutions, form the basis of complete packages of integrated systems to the Chinese market.
Local presence
In addition to the joint venture in Zhenjiang, Kongsberg Maritime has a strong presence in the Chinese market with local offices in Shanghai, Dalian and Guangzhou.