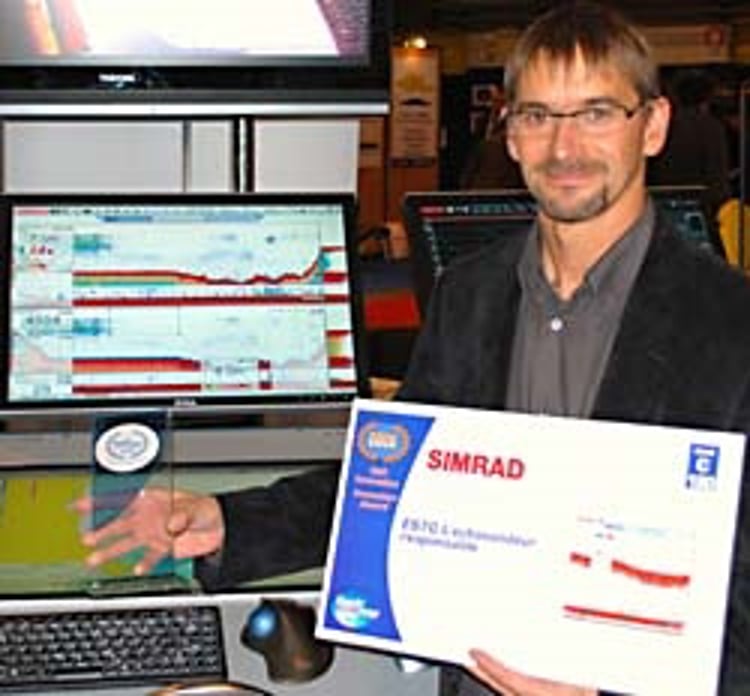 Simrad is a part of Kongsberg Maritime's Subsea division, and as such a part of the Kongsberg Group. The Simrad ES70 echo sounder, which was shown to the professional fishing industry for the first time this September at the World Fishing exhibition in Vigo, Spain, has received the Innovation Award 2009 at the International Sea Technologies Exhibition and Brokerage Event (ITECH MER) in Lorient, France, which took place 22nd - 24th October 2009.
Easier operation and improved performance
The ES70 was selected for the award thanks to a number of new innovations introduced by Simrad for easier operation and improved performance. A key factor is its flexibility, which ensures suitability for all types of professional fishing. It can operate with various different transceivers and transducers, from 18 kHz up to 333 kHz as Single Beam or Split Beam depending on the depth requirements.
"The ES70 is a modular system that allows the user to start with a single beam, single frequency and extend to a multi frequency echo sounder using single or split beam transducers. It allows users to choose from a wide variety of software functions for transducers and transceivers, depending on what kind of fishing it is used for," explains Pierre Palud of Simrad France.
New user interface
The new Simrad ES70 echo sounder is an evolution of the market leading Simrad ES60 echo sounder, which is already installed on over 3500 vessels. One of the key changes that will ensure its ability to enhance catch efficiency, and indeed its selection for the Innovation Award is the new user interface and method of presenting optional data.
"By clicking on the icon on the title bar, the information you wish to add appears in a dedicated pane. This pane can be placed wherever you wish, and it can be set to any size and shape to fit your requirements. It may even be transparent to preserve the echogram in the background," continues Pierre.
The Simrad ES70 also features an innovative, efficient and easy to use new zoom function, which allows the use of an extended area to study a bank of pelagic fish or an area near the sea floor. Bottom hardness information also allows the study of bottom conditions where the ES70 measures reflectivity and calculates hardness on a scale of 1 to 100. All of this information can then be exported to a navigation chartplotter.
"We're delighted to receive the ITECH MER Innovation Award, especially so soon after we unveiled the ES70 to the fishing industry," adds Mads Dahl, Sales & Marketing Director, Simrad. "We're confident that the innovations we have introduced in the ES70 will make it more flexible and easier to use than the already popular ES60, and that this will ultimately help to improve catch efficiency."