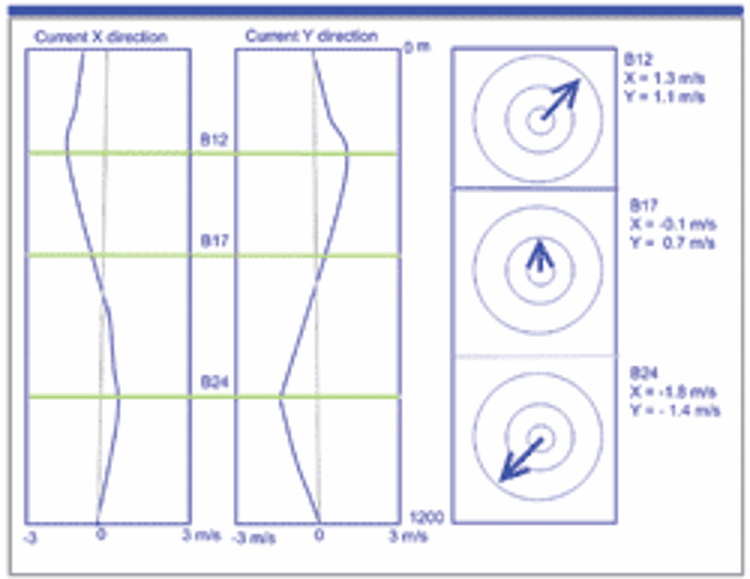 Kongsberg Maritime has developed a new system for measuring sea current speed and direction at given points on a drilling riser, which can be integrated with its sophisticated High Precision Acoustic Positioning and underwater navigation system, HiPAP®. The new Sea Current Meter and HiPAP package is designed to improve control of drilling operations and has already been delivered to the first user.
The Sea Current Meter package consists of a Doppler Velocity Log (DVL) interfaced to a telemetry transponder, which sends the 3D sea current data via acoustics to the onboard HiPAP® system. There are virtually no limits to the number of sea current packages that a single rig may utilise, ensuring that drilling teams are able to receive accurate current data from as wide an area as required.
The Kongsberg Maritime development team has accounted for the fact that sending sea current telemetry takes time, which will influence the HiPAP® update rates. However sea current does not change in direction or speed over short periods of time, so the HiPAP® DVL update rate can be set to read current data only every 5 to 30 minutes, therefore mitigating impact on the update rates and ensuring integrity of position data. Should HiPAP® be used as a DP reference system, integrating Kongsberg Maritime's HAIN reference system will maintain the update rate at 1 ping per second.
"We expect the new package to be very useful in drilling operations especially in deep water or where heavy current may cause problems," comments Roar Hansen, Area Sales Manager, Kongsberg Maritime.
The HPR and now the HiPAP® systems families have both become industry standards, with their functionality in any water depth and any underwater navigation application requiring a 'bird's eye view' under the sea surface. So far, systems are in frequent use down to 6000 meters depth.